THANK YOU TRUE NORTH!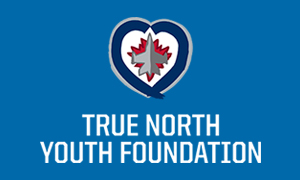 Like most non-profit organizations, the Manitoba Hockey Hall of Fame has worked within our means to survive the Covid pandemic. Our Induction dinner is our main fundraiser and key to our continuing dedication to the following objectives:
The promotion and support of the game of hockey which is a distinctive part of Manitoba's history.
The preservation of Manitoba's Hockey Heritage "past, present and future" through the development of the Manitoba Hockey Hall of Fame and its presence in the Canada Life Centre and our main display at the Bell/MTS Iceplex - Winnipeg and on its website www.mbhockeyhalloffame.ca.
The provision of assistance to hockey families who have suffered misfortune.
To grant opportunities for youth to get involved in the sport by donations to Kidsport Manitoba so that "all kids can play".
To donate funds to any Charitable Organization, as approved by the Board of Directors.
To become involved in any Special Events or Programs which may contribute to the welfare of hockey and/or society in general, as approved by the Board of Directors.
Unfortunately, we were unable to host the 2021 Induction dinner but we were able to continue our post-secondary scholarship program through some generous donations from members of the hockey community. Thank you all very much for your support!
Among that group, was the True North Youth Foundation. The True North Youth Foundation delivers enriching educational, sports-based, and character-building programming that addresses key physical, social, emotional, and intellectual needs. Whether through the academic support of the WJHA, the adventure of outdoor education at Camp Manitou or the wellness curriculum of Project 11, the TNYF impacts more than 70,000 youth annually. 20 percent of net funds raised for the TNYF are being donated to local charities.
The Manitoba Hockey Hall of Fame would like to thank the True North Youth Foundation for its generous support through funds raised by the Winnipeg Jets Chase the Ace program;
https://www.winnipegjetsace.com/