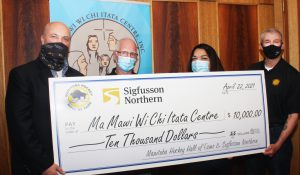 MANITOBA HOCKEY HALL OF FAME HOCKEY HERITAGE AWARD
For the past five years, the Manitoba Hockey Hall of Fame has offered a Community Award. Going forward the Manitoba Hockey Hall of Fame will be revising the award to tie in with our annual Manitoba Hockey Heritage Day on December 20th of each year.
The Manitoba Hockey Hall of Fame Heritage Award of, $10,000.00 will be given annually to a;
- Hockey Community
- Hockey Organization
- Community Club
in the Province of Manitoba that is in good standing with Hockey Manitoba.
No application will be required. The recipient will be selected by a Committee of Hockey Hall of Fame board members based on some or all of the following criteria;
The community's needs related to hockey with respect to,
- repairs to arena, dressing rooms/canteen/iceplant/boards/viewing area/washrooms/scoreboard & PA system
- new equipment: hockey nets/sweaters & socks
- to fund new or existing hockey programs
The selected winner will participate with Manitoba Hockey of Fame to celebrate Hockey Heritage Day.
Membership
Manitoba Hockey Hall of Fame Patrons
Membership is open to all who are interested in promoting the goals and objectives of the Manitoba Hockey Hall of Fame. Any person can become a patron of the hall with a donation of $100. We encourage you to support the rich heritage of hockey in Manitoba!
Become a Patron Today