1955/56 WINNIPEG WARRIORS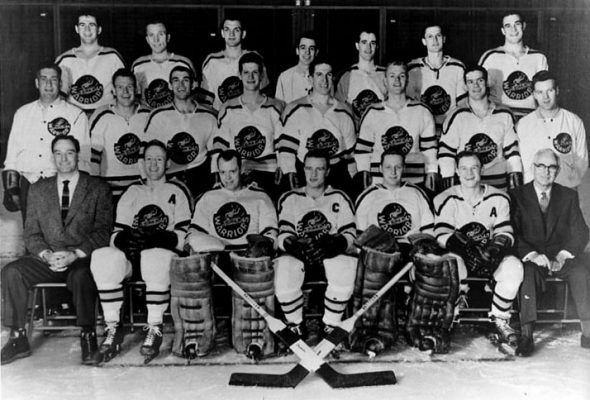 Edinburgh Cup Champions
The 1955 - 56 Warriors won the Lester Patrick Trophy and the Edinburgh Trophy, emblematic of the World's Minor Professional Hockey Championship.
The City of Winnipeg had just completed the construction of Winnipeg Arena in the fall of 1955 and the facility's first major tenant were the Winnipeg Warriors of the Western Hockey League.
The team was owned by the Perrin family of Winnipeg and working agreements with both the Toronto Maple Leafs and the Montreal Canadiens provided players for their inaugural season. The team was made up of a strong Manitoba component including seasoned pros like Fred Shero, Billy Mosieko and Ed Chadwick and included local players like Chuck Lumsden and Don Collins that would see call-up action during the regular season. Coached by Winnipeg's Alf Pike Winnipeg finished first in the Western Division leading the league in points with 84. In the first round of the playoffs, the Warriors would sweep the Saskatoon Quakers 3 games to none, then eliminate the Calgary Stampeders 4 games to 1, setting up the best-of-seven final with the Coast Division champion Vancouver Canucks.The Warriors would take two of the first three games in Vancouver, then return to Winnipeg Arena to take the series in five games.
A Canadian east-west minor professional championship called the Edinburgh Trophy had been created and was to be awarded to the winner of a Canadian east-west minor professional playoff. The WHL champion Warriors would meet the Montreal Royals of the Quebec League in a best-of-nine series to be played in Calgary, Edmonton and Winnipeg. The Eastern champions were riding the strong goaltending of former Montreal Canadien Gerry Mcneil.
In Calgary, the Warriors fell behind 3-1 before rebounding with three quick goals in the 2nd period to go on to a 6-3 win in Game One. The teams moved to Edmonton and this time it was the Royals falling behind 4-1 by the midway mark of the 2nd period. The Royals battled back to tie things up and came away with a 5-4 overtime victory.
Once again, the teams would face off in Calgary and this time it was Winnipeg's game from start to finish. A late marker from the Royal's Phil Goyette was all there was to spoil Warrior's goalie Ed Chadwick's night in a 5-1 win.
The series would head to Winnipeg and the Warriors would take a 3-1 series lead after Billy Mosienko's Third period goal proved the winner in a 4-3 squeaker. On May 3, 1956, a record Winnipeg Arena crowd of 10,072 saw Mosienko score twice and Paul Masnick once in final 3-1 victory to give the Warriors the Edinburgh Trophy.
ROSTER: Gary Aldcorn, Hugh Barlow, Dick Bouchard, Fred Burchell, Bill Burega, Ed Chadwick, Don Collins, Murray Couch, Barry Cullen, Brian Cullen, Les Duff, Garry Edmundson, Cec Hoekstra, Allan Johnson, Bill Juzda, Mickey Keating, Chuck Lumsden, Paul Masnick, Eddie Mazur, Billy Mosienko, Eric Nesterenko, Mike Nykoluk, Jack Price, Fred Shero (Captain), Danny Summers, Len Thornson, Andy Voykin, J. D. Perrin Sr. President, J. D. (Jack) Perrin, Jr., Vice President and General Manager, Alf Pike; Coach, Trainer; Gord Mackie