1994/95 WINNIPEG SOUTH BLUES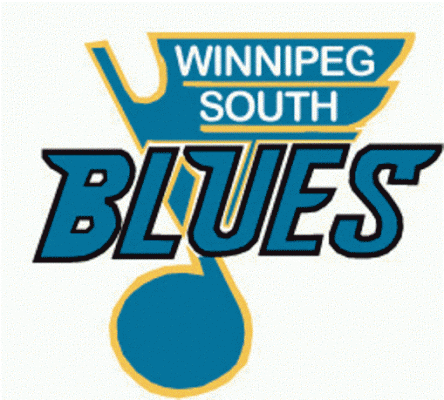 ABBOTT CUP CHAMPIONS
ANAVET CUP CHAMPIONS
TURNBULL MEMORIAL TROPHY CHAMPIONS
The 1994/95 Winnipeg South Blues finished the season in 5th place with a below .500 record. Post-season play was another matter as Coach Doug Stokes turned the team's fortunes around at the right time.
The South Blues would go on to defeat the St. Boniface Saints and claim the MJHL Turnnbull Memorial Trophy. Advancing into inter-provincial play the South Blues would defeat the SJHL Weyburn Red Wings for the Anavet Cup and a spot in the 1995 National Junior A Centennial Cup tournament (now the RBC Cup).
Defeating the Calgary Canucks during the Centennial Cup tournament would earn the South Blues the Abbott Cup and the Western Canadian Junior A title. A semi-final loss to Gloucester Rangers ended the Winnipeg South Blues pursuit of the national title.

Team Captain, Mitch Grant was named tournament MVP and earned a spot on the tournament all-star team.
Roster; Rob White, Eric Anderson, Lance Barentz, Jarrett Davidson, Everett Benoit, Calvin Chartrand, Matt Demarski, Mitch Grant (C), Scott Harmatiuk, Ryan Lachaine, Ritchie Larson, David Maruca, Kevin Moroz, Alan Mymryk, Colin O'Hara, Stefan Olafson, Murray Oster, Duncan Paterson, Jody Phillipe, Gary Romijn, Kelvin Schmidt