1940/41 WINNIPEG RANGERS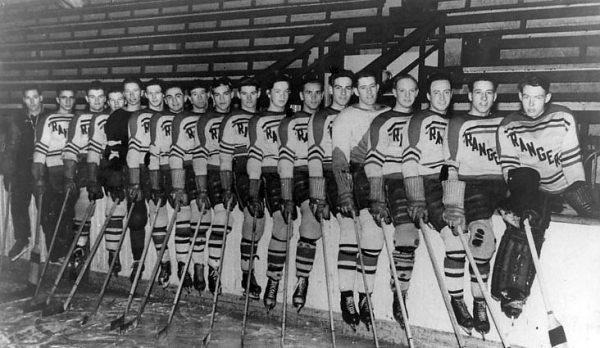 MEMORIAL CUP CHAMPIONS
ABBOTT CUP CHAMPIONS
MANITOBA/THUNDER BAY INTER-PROVINCIAL CHAMPIONS
TURNBULL TROPHY

After eliminating the Winnipeg Monarchs two games to one, the 1941 Winnipeg Rangers claimed the South Division title over the Portage Terriers in three games straight. They would then take the Manitoba Junior title and Ollie Turnbull Memorial Trophy by beating East Kildonan Bisons in three straight games (4-3, 7-4, 7-2).
Next up were the Port Arthur Juniors. After beating the injury-depleted Port Arthur squad soundly in the first two games (6-3, 9-1) the Manitoba/Thunder Bay Inter-Provincial series was awarded to the Rangers.
In the Western Canada Abbot Cup final their opponent were the Saskatoon Quakers. The teams would trade victories with the heavily-favoured Rangers taking the first game 6-4. Saskatoon responded with a 4-1 in Game Two with the teams headed to Saskatoon after a 3-1 Ranger victory in Game Three. In Saskatoon, the Quakers were ready, thumping the Rangers in a 10-5 win. Billy Robinson's last minute goal gave the Rangers a 4-3 win and a 3-2 series lead. The Rangers had plans on ending the series but the Quakers quashed those hopes with a convincing 10-2 whipping sending the teams back to the Winnipeg Amphitheatre for the final game. The Rangers would win the Western Canada Junior title with a 7-3 victory.
The Rangers would face the Montreal Royals at Maple Leaf Gardens in Toronto for the first game of a best-of-five for the Memorial Cup. This was the first time a Quebec team had represented the East in 23 years of Memorial Cup play. Showing little effects of the 36 hour train ride from Winnipeg, Sam Fabro's two goals led the Rangers to a Game One win 4-2. The teams moved to Montreal for Game Two where the Royals posted a 5-3 win. The series moved back to Toronto for game three and Rangers came away with a 6-4 victory. Back home in Montreal, the Royals would force a fifth and deciding game by edging Rangers 4-3 on two late power play goals. Back in Maple Leaf Gardens, the Royals held the edge in play but Hal Thompson's solid play in goal sparked the Rangers to a 7-4 victory and the Memorial Cup title.
Roster: Lorne "Baldy" Northcott (Coach), Mike Peters (Spare Goal), Hugh Millar (Defence), Glen Harmon (Defence), Bernie Bathgate (Forward), Bill Heindl Sr. (Defence), R.A. "Sammy" Fabro (Forward), Les Hickey (Forward), Bob Ballance (Forward), Hub Macey (Forward), Manning "Babe" Hobday (Defence), Lou Medynski (Forward), Earl Fast (Forward), Doug Baldwin (Defence), Bill Mortimer (Defence), Alan Hay (Forward), Billy Robinson (Forward), and Hal Thompson (Goal),  Tommy Bredin - Forward, President - Les Isard, Manager - Scotty Oliver, Trainer - Johnny Gross