1950/51 WINNIPEG MONARCHS - ABBOTT CUP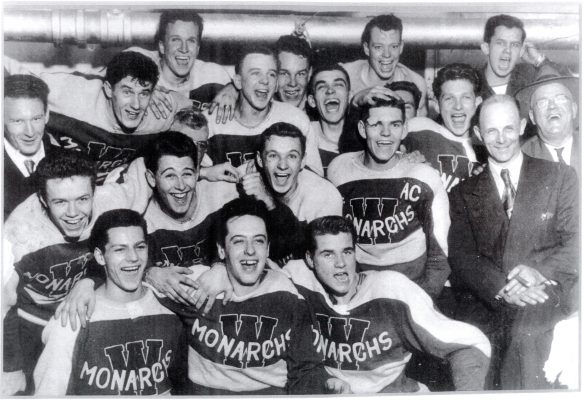 ABBOTT CUP CHAMPIONS

The 1950/51 Winnipeg Monarchs had a very difficult road in order to win the Abbott Cup emblematic of the Western Canada junior hockey championship. First of all, Monarchs had to beat the two-time defending champion Brandon Wheat Kings in the Manitoba Junior Hockey League final that went six games.
The Winnipeg Monarchs then claimed the Abbott Cup by defeating the Regina Pats in a rough and spirited affair for both players and fans. The first three games were played in Regina before moving to the Winnipeg Amphitheatre for the remaining matches. The Best-of-Seven final actually went to eight games with one game a tie.
The Monarchs went on to lose the Memorial Cup to the Barrie Flyers. The 1951 series was the last time that the Monarchs would appear in a Memorial Cup final.
Roster; Don Johnston, Don Collins, Blair Mitchell, Ross Parke, Ron Barr, Gerry James, John Riley, Bill Burega, Dave Trainor, Jim Zarie, Elliott Chorley (C), Bruce Bell, Terry Hanna, John Novak, Ron Stephenson, John Mozol, Laurie Mitchell, Vic Fredette, Coach; Walter Monson, Equip; Ron Hamill, Trainer; Ed Haverstock, Manager; Pat Lyon