1963/64 WINNIPEG MAROONS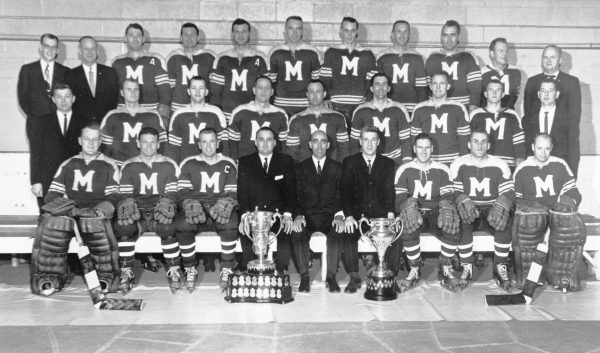 The 1963/64 Winnipeg Maroons defeated the Woodstock Athletics in 4 straight games; 5-0, 7-1, 5-0, and 5-3 to claim Canada's Senior hockey prize, the Allan Cup.
It had been the Maroons third appearance in four years in the Allan Cup finals. After losing to Galt Terriers in 1962 and Windsor Bulldogs in 1963, they were not to be denied in 1964, despite some question whether or not they would compete for the cup that year. The team had just returned from a European tour and injuries to key players Fred Dunsmore and Reg Abbott had ravaged the club.
Nonetheless, after adding a few new bodies, the Maroons overpowered their opponents in the spring of 1964, winning 12 of their 13 playoff games and outscoring their rivals 79 - 32. Veteran Ross Parke lead the team in scoring with 26 points with Chuck Lumsden, scored the winning goal and Parke the last goal of the Allan Cup playoff finals.
This 1964 Maroons were an all-Winnipeg collection of true amateurs as no players were paid and home game revenues going to Winnipeg charities. That winter the Maroons had played a mixed schedule against teams in the Saskatchewan Senior Hockey League and approximately twelve games against the Russian, Czechoslovakian, Swedish and USA national teams. The Maroons more than held their own against International competition with the CAHA asking the team to give up its identity and become Canada's First National Team in 1965.
Roster: Reg Abbott, Gary Aldcorn, Terry Ball, Sheldon Bloomer, Dick Braun, Ron Castelane, Elliot Chorley, Don Collins, Murray Couch, Mike Daski, Gord Dibley, Fred Dunsmore, Ron Farnfield, Bernie Grebinsky, Al Johnson, Bill Johnson, Lou Joyal, Leo Konyk, Julian Klymkiw, Aggie Kukulowicz, Ron Kullman, Chuck Lumsden, Jim MacKenzie, Tom Marshall, Ross Parke, John Russell, Danny Summers, Terry Hind, President, Bud Holohan (G.M.), Gord Simpson (Coach).