1920/1921 WINNIPEG FALCONS JUNIORS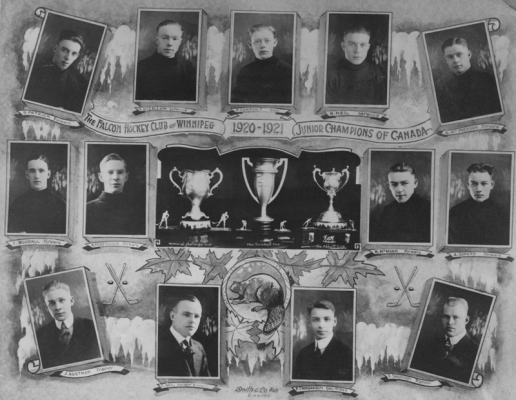 The Falcons Junior hockey team were Manitoba champions in 1921. Knocking off Selkirk in a hard-fought series 2-1 and 5-4 to claim Division 'A' of the Winnipeg Junior Hockey League. They would then destroy Portage la Prairie, the "B" Division winners, 10-0, in the Provincial Final to hoist the Ollie Turnbull Memorial Cup.
Defeating the Regina Vics 5-4, and 3-1, at the Winnipeg Amphitheatre for the Abbott Cup title, the Falcons defeated the Thunder Bay League's Fort William YMCA 9-3, and 11-4, and earned a date in the Canadian championship in Toronto's Arena Gardens against a Stratford Midget team that featured one of hockey's future greats, Howie Morenz.
On March 24th, the speedy Falcon squad received stellar goaltending from Scotty Comfort and swarmed over an over-confident Stratford to take game one of the two-game total point series, 9-2. Two days later, Stratford would rebound behind a Morenz hat-trick in the second game to win 7-2, but fall short in catching Winnipeg. The Falcons had hung on behind Comfort's play to hoist the first Memorial cup title ever for Western Canada with an aggregate score of 11-9.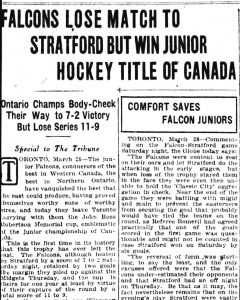 In later years, Art Somers played in the NHL with the New York Rangers. Harry Neil was captain of the Selkirks in the Winnipeg Senior League before coaching in Junior hockey. Harold McMunn was picked up by the Toronto Granites, Allan Cup winners in 1923. He would then help them win an Olympic championship in 1924. Wally Fridfinnson performed occasionally in the Bankers' League, and Sammy McCallum went on tour with Varsity Grads when they won the World championship.
The Falcons featured players like defenceman Harry Neil, who would later coach the Winnipeg Monarchs to the 1932, 1935 and 1937 Memorial Cup finals, winning the latter two.
Art Somers would go on to play seven seasons in the NHL with the Chicago Blackhawks and New York Rangers. Harold McMunn would join the Toronto Granites and win an Allan Cup in 1923 and a World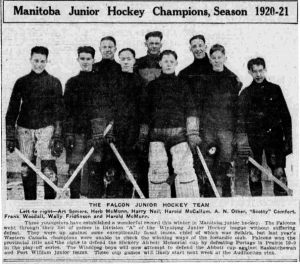 title in 1924.
Team Roster: Fred Comfort(Goal), Harry Neil and Sammy McCallum (Defence), Wally Fridfinnson, Frank Woodall and Harold McMunn (Regular line), Dave Patrick, Herb McMunn, Bill McPherson and Art Somers (Relief Line), Connie Neil (Manager/Coach).