1919/20 WINNIPEG FALCONS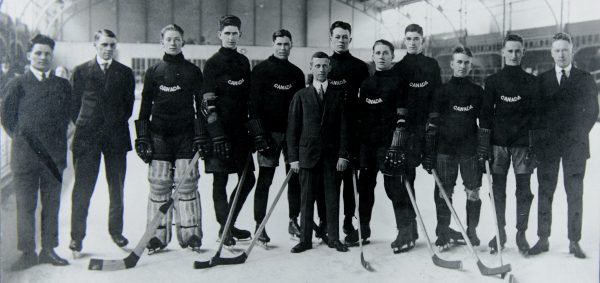 1920 ALLAN CUP CHAMPIONS
1920 OLYMPIC HOCKEY CHAMPIONS

The Falcons had been denied entry to the Senior Winnipeg Hockey League for the 1919/20 season. Joining Selkirk and Brandon in the rural Manitoba Hockey League, the Falcons would take the MHL championship.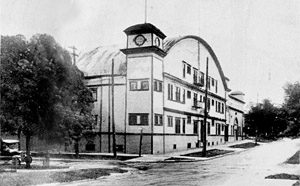 The old Amphitheatre Rink was packed with 5,000 hockey fans on Thursday, February 6, 1920 to see the Falcons meet the Winnipeg Hockey League champion Winnipegs for the right to represent Manitoba in pursuit of the Allan Cup. It was simply no contest as the speedier Falcons whitewashed the "Pegs 5-0 in Game One before trouncing them in the 2nd of the two-game total point affair, 10-1. Manitoba hockey officials were red-faced realizing that earlier efforts to deny the Falcons the opportunity to compete in Senior play could have resulted in the province's best team not representing the province.
Taking on the Thunder Bay champion Fort William Maple Leafs, the Falcons once again used their speed to breeze to victory with 7-2 and 9-1 wins.
Two weeks later, the Falcons thoroughly impressed Toronto hockey fans winning the prestigious Allan Cup easily by beating Toronto Varsity 8-3 and 3-2. As Dominion champions they would represent Canada at the 1920 Olympic hockey tournament, held in Antwerp, Belgium in April.
The Falcons had hoped to go home and celebrate with a parade. Instead, they were advised that there was no time to return home and pack. Days later, the team boarded a ship at St. John, New Brunswick and headed overseas with literally the clothes on their back. While enroute, the team would exercise on-deck and develop strategies as they would be playing the seven-man game of hockey in the Olympic tournament.
Arriving in Antwerp, the Falcons held open practices and exhibition matches on the under-size Antwerp Ice Palace, dazzling the spectators with their skills. The team exemplified sportsmanship by helping their opponent's improve their training methods.
The Winnipeg Falcons easily claimed the first Olympic gold for hockey defeating Czechoslovakia 15-0, USA 2-0, and Sweden 12-1. The team that nobody wanted were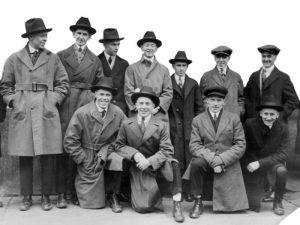 World Amateur Hockey champions.
The Falcons arrived home on Saturday, May 22, 1920 to a massive civic celebration and parade.
The 1920 Winnipeg Falcons Hockey Club: Frank Frederickson (Captain), Allan "Huck" Woodman, Haldor "Slim" Halldorsson, Kurt 'Konnie' Johannesson, Christian Fridfinnson, Bobby Benson, Magnus "Mike" Goodman, Wally Byron. Falcons that were not on the Olympic roster but contributed during the season were Harvey Benson, Ed Stephenson, Connie Neil, W. B. 'Babe' Elliott, Babs Dunlop and Sam Laxdal.
Fred "Steamer" Maxwell (Manager & Coach), W.A. Hewitt, Olympic Team Manager , Gordon Sigurjonsson, Trainer.
Honorary President, Hon. Thomas H. Johnson; President, Hebbie Axford; Vice-President, Col. H. Marino Hannesson; secretary, Bill Fridfinnson; and the executive committee consisted of Bob Forrest, John Davidson and Fred Thordarson.