1958/59 WINNIPEG BRAVES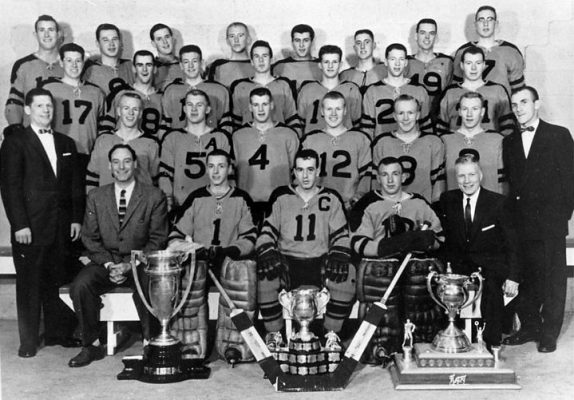 1959 Memorial Cup Champions 
1959 Abbott Cup Champions
1959 Turnbull Cup Champions

After a tight race for first place in the 1958/59 Manitoba Junior Hockey League season, the Winnipeg Braves eliminated the Brandon Wheat Kings (8-1, 4-2, 11-4) and then take the Turnbull Memorial Trophy final in five games (5-2, 4-2, 3-0, 2-7, 6-4) over the St. Boniface Canadiens.
Next up would be the Fort William Canadiens for the Thunder Bay-Manitoba Junior title. The Braves would claim the title in five games (9-4, 1-3, 3-1, 5-1, 3-1OT) For the long play-off road ahead, the Braves would add Ted Green and Howie Hughes of St. Boniface Canadiens and Don Atamanchuck from Transcona Rangers as the CAHA call-ups teams were allowed to add.
The Braves would travel to Flin Flon to take on the Saskatchewan Junior Hockey League champion Flin Flon Bombers. The Bombers, led by Cliff Pennington, used their size advantage to out-muscle the Braves and take the first two games in Flin Flon, 5-1 and 7-4. Back home, in Winnipeg Arena, the Braves used their speed and tight-checking to tie the series with 5-2 and 6-4 wins. After a 5-1 Game Five win, Winnipeg eliminated the Bombers and claimed the Western Canada Junior Abbot Cup with a 3-0 win in front of 9,018 fans in the Arena.
The Braves would meet the Eastern champion Peterborough Petes, coached by 25-year-old Scotty Bowman. The Petes were solid in goal with Dennis Dejordy, a replacement from St. Catherines Teepees stepping into the nets for the injured Jacques Caron. The Petes defence was led by Barclay Plager and Jimmy Roberts. Their leading scorer was Wayne Connelly. The Braves were permitted to add three more substitute players, goalie Paul Sexsmith, and forwards Jerry Kruk and Johnny Roger if needed.
A Second Period lapse by Winnipeg allowed Peterborough to pot 4 unanswered goals and take Game One, 5-4. The Braves took the second game 5-2 with Laurie Langrell leading the way by netting the first of three consecutive two goal games. Winnipeg would take the next two games, 5-2 and 5-3, to go up three games to one.  The teams would head to Brandon for Game Five where Al Baty's hat trick powered the Braves over the Petes 6-2 and the Memorial Cup Canadian Junior Hockey championship.
Roster: Pat Angers, Don Atamanchuk, Al Baty, Gary Bergman, Ernie Bradawaski, Rene Brunel, Ted Green, Howie Hughes, Allan Ingimundson, Ken King, Ted Knight, Jerry Kruk, Laurie Langrell, Wayne Larkin, Al LeBlanc, Bobby Leiter, Doug Monro, Zenon Moroz, Lew Mueller, John Rodger, Paul Sexsmith, John Sutherland, Bob Wales, Wayne Winstone, Ernie Wakely, Jack Perrin Jr. (President), Bill Addison (Manager), Bill Allum (Coach), Jim Drury (Trainer).