1973/74 WARROAD LAKERS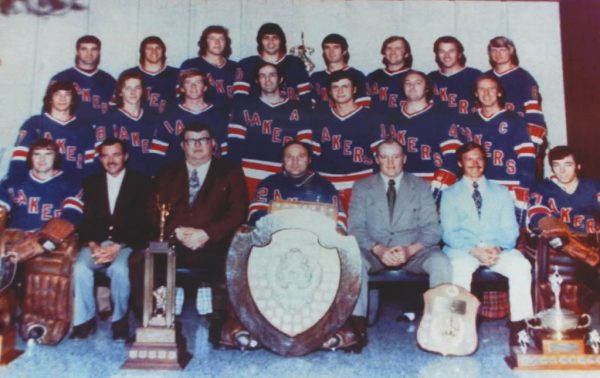 HARDY CUP - CANADIAN INTERMEDIATE CHAMPIONS
EDMONTON JOURNAL - WESTERN CANADA INTERMEDIATE CHAMPIONS
MANITOBA- SASKATCHEWAN INTERMEDIATE CHAMPIONS
MANITOBA-THUNDER BAY INTERMEDIATE CHAMPIONS
MANITOBA INTERMEDIATE CHAMPIONS

Claiming the 1974  Canadian Central Hockey League (CCHL) title was the beginning of a triumphant trail of victories for the 1973/74 Warroad Lakers.
The Lakers would go on to lay claim to; Manitoba-Thunder Bay championship (H.M. Heneman Trophy); Manitoba Intermediate AA championship (defeating Thompson Hawks 3-0); Central Canadian Senior championship (defeating St. Boniface Mohawks 3-1); Saskatchewan championship (defeating Rosetown Red Wings 3-1); Western Canada championship Edmonton Journal Trophy (defeating Coquitlam Canadians 3-2) putting the team into the 1974 Canadian Intermediate championship Hardy Cup final.
Taking on the Embrun, Ont., Panthers for the Canadian Intermediate title in Roseau, MN the Lakers swept the Panthers 3-0 in the best of five series to claim the Canadian Intermediate championship. The Lakers won 15 of 21 play-off games to finish the season with a record of 33 wins, 11 losses and one tie.

ROSTER; Blaine Comstock, Allie Reynard, Grant Clay, Tim McKinnon, Dave McConachy, Mike Marvin, Dick Braun, Vic Magda, George Forgie, Warren Harrison, Dave Richardson, Jim Cole, Brian Dyck, Jim Trosky, Bill Christian, Harry Beuckert and Bryan Grand. Player-Coach Bob Tuff, General Manager - Cal Marvin