1964/65 UNIVERSITY OF MANITOBA BISONS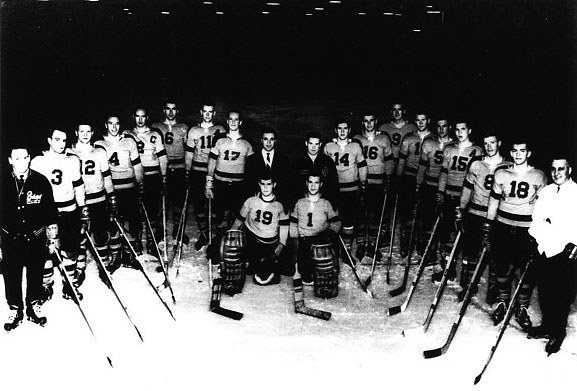 Canadian Intercollegiate Athletic Union Champions
The University of Manitoba Bisons won the university's only Canadian intercollegiate men's hockey championship in 1965. 
The 1964/65 University of Manitoba Bisons were big, hard-nosed and fast. The squad had earned a 10-2 record in the tough Western Canadian Intercollegiate Athletic Association (WCIAA) conference. Winning the WCIAA title would give the Bisons the only western spot available in the National Intercollegiate Playoff. The single knockout affair was played that year in Winnipeg, March 12&13 starting at Bison Gardens on the University of Manitoba campus.
First up for Coach Billy Robinson's Bisons were the Laurentian University Voyageurs from Sudbury, ON, representing the Ontario-Quebec Conference. The Voyageurs had not suffered a loss all year and took an early 3-1 lead. The bigger Manitoba squad responded and poured 54 shots on the Voyageurs net to soundly thump their guests 10-4. Jim Irving, who had recently returned from a tour with the Canadian National team, led the way with a hat-trick while Bill Podolsky and Jim Pineau added two each. Singles were added by Tom Trosky, Leo Duguay and Terry Mancer.
The win put the Bisons into the Dominion University final the next day against the St. Dunstan's University Saints at Winnipeg Arena. The Saints, Maritime Intercollegiate Athletic Association champions, had defeated the Ottawa-St. Lawrence Valley Conference champion Sir George Williams Georgians 3-1 behind relentless backchecking. The Saints were led by future NHL'er Billy Macmillan.
On March 13, 1965 before 2,500 fans, the Bisons were all business taking a 6-0 first period lead on two goals from Irving, and singles from Gord Lindal, Gavin Speirs, Leo Duguay and Tom Trosky. The Bisons were in complete control from start to finish in winning the Canadian Inter-collegiate Mens Hockey Championship 9-2. Lindal added another in the second before the Saints finally put one past goalie Ken Kachulak. Bill Podolsky and Barry Solness finished the Bison scoring in the third.
The Bison's John Trojack and Edgar Rivalin were first-team Western all-stars, while John Shanski, Leo Duguay, Jim Irving and Gavin Speirs earned Second-team Western all-star status. Duguay had led the WCIAA conference with 16 goals. Manager Norm Gardner had recruited a championship team composed entirely of Manitobans but one, with thirteen players from Winnipeg.
Roster: Gibb Pritchard (Asst Coach), Barry Solness, Geoff Ball, George, Butterworth, Chuck Meighen (Captain), John Trojack, Gavin Speirs, Terry Mancer, Norm Gardner (Manager), Ken Kachulak, Tom Trosky, John Shanski, Tim Fast (Equipment Manager), Leo Duguay, Gord Lindall, Jim Irving, Brian English, Edgar Rivalin, Bill Podolsky, Ken Plews, Jim Pineau, Bill Robinson (Head Coach), Paul Allan (missing from photo).