1922/23 UNIVERSITY OF MANITOBA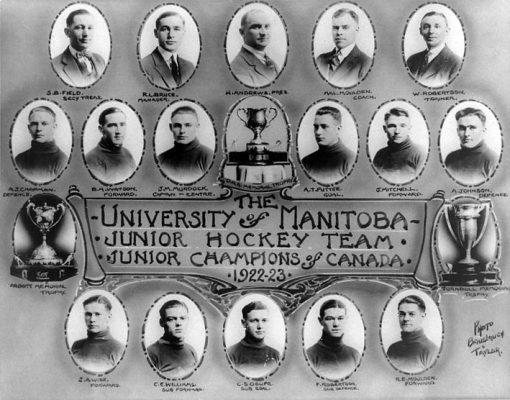 Memorial Cup Champions
The University of Manitoba, coached by Hal Moulden and Captained by Murray Murdoch, qualified for the Abbott Cup final with an 8-1 win over Brandon to take the Manitoba junior title.
The Calgary Canadians had taken a total-goal series 7-5 over the Regina Pats and would meet the UofM in Winnipeg at the Amphitheatre Rink. The teams would engage in a 2 game total point series.
The UofM took Game One 5-4 followed by a 5-3 victory on March 14th to win the Abbot Cup 10 goals to 7. The UofM was on to Fort William to meet the Cubs, with the winners to meet Kitchener for the Memorial Cup. The Cubs and Manitoba played to a 3-3 tie on March 18 in a physical match.
Manitoba's 6-1 victory on March 19th claimed the series 9-4 putting the University against the Eastern champion Kitchener Greenshirts.
The Memorial Cup series opened in Toronto on March 22 with Manitoba displaying "superior speed, and courage, uncanny checking and resourcefulness," in whipping Kitchener 7-3. Despite being tied 2-2 after one period, Manitoba's Murray Murdoch scored four straight second-period goals for Manitoba, with additional singles from Blake Watson, Nip Johnson and Jack Mitchell to put the game away.
Manitoba would take the Memorial Cup home with another 7-3 victory and a 14-6 aggregate. Murdoch's last goal in the first game, with 2:30 left in the second period, was the Cup-winning score.
Murray Murdoch followed up his four-goal opening game by scoring five times and setting up another in Game 2, scoring nine of Manitoba's 14 goals in the two games. "In Murdoch, the University of Manitoba has one of the best players in the amateur ranks. He has ability to star in senior company next year," stated one report. Watson and Mitchell also scored for the winners.
ROSTER; 
J.A. Wise (Forward), C.E. Williams (Sub Forward), C.S. Doupe (Sub Goal), F. Robertson (Sub Defence), R.E. Moulden (Forward), A.I. Chapman (Defence), B.H. Watson (Forward), J.M. Murdoch (Captain & Centre), A.T. Puttee (Goal), J. Mitchell (Forward), A. Johnson (Defence), S.B. Field (Secretary/Treasurer), R.L. Bruce (Manager), H. Andrews (President), Hal Moulden (Coach), Walter Robertson (Trainer).