1972/73 PORTAGE TERRIERS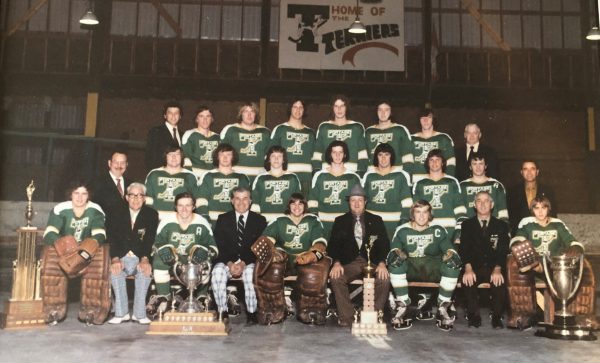 NATIONAL CHAMPIONS - CENTENNIAL CUP
WESTERN CANADA CHAMPIONS - ABBOTT CUP
MANITOBA/SASKATCHEWAN CHAMPIONS
MANITOBA CHAMPIONS - TURNBULL MEMORIAL CUP
Portage Terriers Coach Muzz MacPherson found  himself in a familiar place in the Manitoba Junior Hockey League's 1972/73 post-season. His Terriers had advanced to the league final, a spot where MacPherson had led the Winnipeg Monarchs twice previously, only to come away empty-handed. Both times his Monarchs had lost in a Game Seven final.
His 1972/73 Terriers had run away with the regular season North Division and earned their spot in the MJHL Final by sweeping the Kenora Muskies in four straight games (7-3,15-3,7-3,7-2) to claim the North Division title and a matchup with South Division winners, St. James Canadians. This time there would be no Game Seven anxiety for MacPherson as the Terriers kept their play-off success rolling along winning four straight (4-2,7-2,4-2,6-1) to claim the Turnbull Memorial Cup as Manitoba Junior Hockey League champions.
First up on the play-off trail were the Saskatchewan Junior Hockey League champion Humboldt Broncos for the Manitoba-Saskatchewan Inter-Provincial championship. Despite home-ice advantage in front of a raucous Portage la Prairie crowd, the Broncos took Game One, 4-2. In Game Two, the Terriers completely dominated the Broncos pouring 68 shots on the Humboldt net in a 5-1 victory. The series would move to Humboldt where the Terriers took a 3-1 series lead with a 7-4 win followed by an 8-5 win and a stranglehold on the series. The Broncos would not give up, but after winning Game five 7-4, Humboldt's management inexplicably defaulted the series and would not play any further.
Portage would advance to the Western Canada Junior A Final against the Alberta/BC champion Penticton Broncos. The Broncos would take a 3-1 series lead with 5-1, 6-4 victories at home and a 5-3 win in Game four after the series had moved to Manitoba and Portage had taken Game Three 6-4 in overtime. The Terriers however, would rebound with back-to-back wins (6-3,5-3) to force a Game Seven. The Terriers did not disappoint a wild and boisterous home crowd and advanced to the Canadian Junior A final claiming the Abbott Cup with a 6-2 win.
The Portage Terriers met the Pembroke Lumber Kings for the Canadian Junior A title series and took the first three games (7-5OT,4-2,3-1) before Pembroke responded with a 6-4 win. On Monday, May 14, 1973, the determined Terriers would claim the Centennial Cup as the top Junior A club in Canada with a 4-2 victory at Winnipeg Arena.
1973 Portage Terriers Roster:
Knowlson McDermid (Executive), George Miller (Assistant Captain), Joe Sponarski (Executive), Muzz MacPherson (Coach), Grant Farncombe (Captain), Ron Horner (Executive), Webb Burton (Executive), Harry Kincylo (Executive), Cooney Strong (Trainer), Max Trigg (Trainer), Richard Christie, Ty Langton, John Memryk, Glenn Miller, Bob Miller, Dan Bonar, Randy Hextall, Bill Calder, Don Arthur, Scott Hetherington (Assistant Captain), Al Hilton, Randy Penner, Frank Leswick, Bill Robertson, Warren Remple, John Hewitt, Doug Wood, Dean Magnus.