1956/57 POPLAR POINT MEMORIALS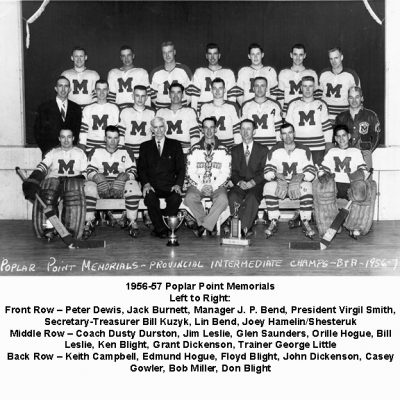 J. P. BEND TROPHY

The Poplar Point Memorials are the second intermediate team from the 1956/57 season to be honoured by the Manitoba Hockey Hall of Fame. With a new rink in Poplar Point, the Memorials decided to compete for the provincial intermediate B championship for the first time in several seasons.
In the final against Pierson Bruins, the teams won in their home rinks forcing a third game in Brandon which Poplar Point won. The team then challenged the Intermediate A champion Winkler Royals and won that series two game to one and brought the J.P. Bend Trophy emblematic of Manitoba intermediate AB supremacy to Poplar Point for the first time.
Roster: Peter Dewis, Joey Hamelin, Bob Miller, John Dickenson, Glen Saunders Jr., Jack Burnett, Lin Bend, Don Blight, Edmund Hogue, Keith Campbell, Casey Gowler, Orille Hogue, Floyd Blight, Jim Leslie, Bill Leslie, Grant Dickenson, Coach Dusty Durston, Manager J.P. Bend, Trainer George Little, President Virgil Smith, Secretary-Treasurer Bill Kuzyk