1956/57 PINE FALLS PAPER KINGS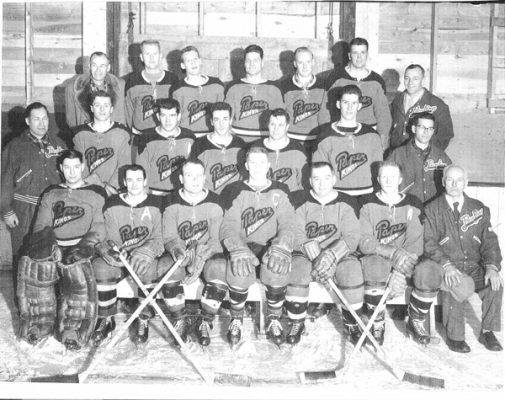 EDMONTON JOURNAL TROPHY - WESTERN CANADIAN INTERMEDIATE CHAMPIONS
Pine Falls Paper Kings won the Big Six League in 1956-57 defeating Dauphin Kings in the final to become Provincial Intermediate AA champions.
After beating the intermediate AB champion Poplar Point Memorials in a sudden-death playoff, Paper Kings faced the Kenora Thistles in a series they won in four games.
In the Western Canadian final played at Winnipeg's Olympic Rink, Pine Falls swept Kimberley Dynamiters four straight and captured the Edmonton Journal Trophy emblematic of Western intermediate AA hockey supremacy.
Roster: Bob Guay, Ted Gilchrist, Joe Reichert, Hugh MacKay, Bob Seguin, Bud McCrae, Laurie May, Chuck Hubbard, Tom Marshall, Bill Juzda, Mel Matthews, Red Ahrensback, Gyle Woods, Art Harris, Bill Boivin, Murray Balagus, Chuck Lumsden, Dewar Thomson, Hec Bourgeois, Playing Coach Ken McKenzie, Manager Jim Desilets, Trainer Stan Powell, President Art Kruger, Executive Fred McFadden, Equipment Manager Stan Brewster