1956/57 FLIN FLON BOMBERS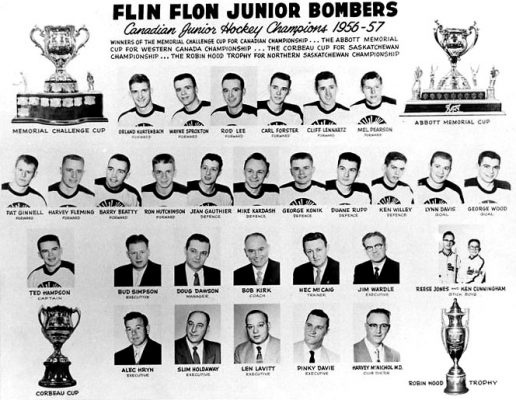 Memorial Cup
Abbott Cup - Western Canada Champions
Corbeau Cup - Saskatchewan Champions
Robin Hood Trophy - Northern Saskatchewan champions
The Flin Flon Junior Bombers dominated the Saskatchewan Junior Hockey League's 1956/57 regular season. Led by Coach Bob Kirk, the Bombers finished in first place with 48 wins, five losses and two ties. The team's success continued in the SJHL semi-final as the Bombers defeated the Humboldt Indians four games straight. The Flin Flon Bombers would claim the Corbeau Cup Saskatchewan Championship winning the league final four games to two over Prince Albert.
The Bombers would eliminate the Edmonton Oil Kings four games to two in the Western semi-final, and then sweep the Fort William Canadiens four games to none to win the Western Canada championship Abbott Cup.
The Bombers would face the high-powered Ottawa Canadiens, coached by Sam Pollock and assistant Scotty Bowman in the Memorial Cup. Pollock was less than impressed that his team needed to venture so far north for the first three games scheduled for Flin Flon. Until the remainder of the games were played in Regina, Pollock's less than kind words were not greeted warmly by local Bomber fans.
Flin Flon surprised everyone in taking the first game 3-1, but Ottawa would rebound to take the next two games 4-3 and 5-2. Moving to Regina, 3-1 and 3-2 Bomber victories, put Flin Flon on the verge of the title, but the Canadiens fought back and tied the series with a 4-2 Game Six victory. In Game Seven, Flin Flon took an early 3-1 lead in the final game and hung on to take the Memorial Cup with a 3-2 victory.
Roster: Harvey Fleming, Carl Forster, Cliff Lennartz, Barry Beatty, Mike Kardash, Duane Rupp, George Konik, Mel Pearson, Ken Willey, Rod Lee, Wayne Sproxton, Ted Hampson (Captain), George Wood, Lynn Davis, Jean Gauthier, Ron Hutchinson, Orland Kurtenbach, Pat Ginnell, Doug Dawson (GM), Bob Kirk (Coach), Harvey McNichol (Club Doctor), Hec McCaig (Trainer), Bud Simpson (Executive), Jim Wardle (Executive), Alex Hryn (Executive), Slim Holdaway (Executive), Len Lavitt (Executive), Pinkie Davie (Executive), Ken Cunningham (Stickboy), Rees Jones (Stickboy), Dan McCaig (Mascot).