1930/1931 ELMWOOD MILLIONAIRES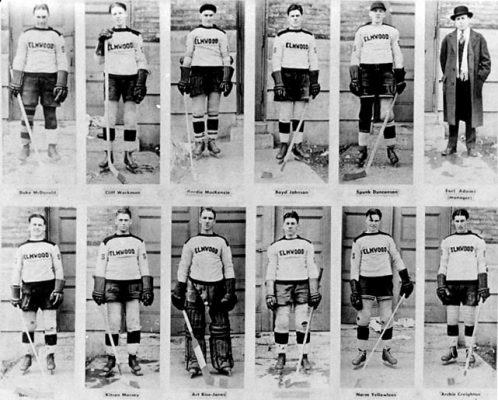 Memorial Cup/Abbott Cup/Turnbull Champions
The 1930/31 Elmwood Millionaires defied the odds as they won both the Abbott Cup as Western Champions and the Memorial Cup as National Junior Champs even though they were heavy underdogs.
The MJHL Champion Elmwood Millionaires met the heavily-favoured defending-champion Regina Pats in a two-game, total-goal Abbott Cup final at the Winnipeg Amphitheatre. The Pats, led by goalie Kenny Campbell were riding a streak of six straight shutouts.
On March 18, Ralph Redding's goal was all the Pats needed to continue the streak with a 1-0 win.
Two nights later Elmwood broke the shutout streak and tied the series up going into the 3rd period. Ralph Redding would put the Pats ahead and their ticket to the 1931 Memorial Cup was all but punched with a 3-2 lead in points and 15 seconds left in the match. That's when the Millionaire's Kitson Massey lofted a desperation shot high in the air from his own blueline. Goalie Campbell lost the puck in the lights until on-ice Goal Judge Stew Macpherson tapped him on the shoulder and pointed to the puck in the net.
This left the two-game total points series tied and in the 2nd Overtime period Spunk Duncanson scored giving Elmwood the series 4-3 on aggregate.
Elmwood would meet the Ottawa Primroses in the best-of-three Memorial Cup Final, starting March 23 at Toronto's Arena Gardens.
The Primroses took Game 1, 2-0. On March 25, Elmwood's Spunk Duncanson and George Brown scored in posting a 2-1 victory to force a deciding game on March 27.
Game 3 was played in Ottawa where Elmwood would blank the Primroses 3-0 in front of 9,000 fans. This was the largest crowd to ever watch a game in Ottawa.
Duke McDonald scored the Memorial Cup-winning goal and Bill MacKenzie made it 2-0 before Kitson Massey finished off the scoring in the third.
Roster: Duke McDonald, Cliff Workman, Gordie McKenzie, Boyd Johnson, "Spunk" Duncanson, George Brown, Kitson Massey, Art Rice-Jones, Bill McKenzie (Captain), Norm Yellowlees, Archie Creighton, Jack Hughes (Coach), Earl Adam (Manager).