1965-70 CANADIAN NATIONAL TEAM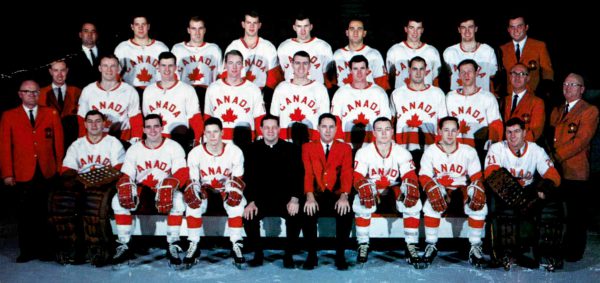 Winnipeg was home to Canada's National hockey team from 1965 to 1970.
During this period, the Nats were Manitoba's top hockey team with some great games being played in the Winnipeg Arena against top European teams. A second national team was formed in Ottawa during the 1967-68 season.
Canada finished third in the world championship in 1966 and 1967. The team then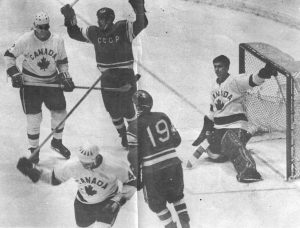 won the bronze medal in the 1968 Olympics in Grenoble, France.
 Nat rosters;
1968 Grenoble Winter Olympics - Bronze Medal

Head coach: Jackie McLeod
Manager Father David Bauer
Roger Bourbonnais, Ken Broderick, Ray Cadieux, Paul Conlin, Gary Dineen, Brian Glennie, Ted Hargreaves, Fran Huck, Marshall Johnston (C), Barry MacKenzie, Bill MacMillan, Steve Monteith, Morris Mott, Terry O'Malley, Danny O'Shea, Gerry Pinder, Herb Pinder, Wayne Stephenson
1967 World Ice Hockey Championships - 3rd Place

Head coach: Jackie McLeod
Manager Father David Bauer
Gary Begg, Roger Bourbonnais (C), Jack Bownass, Carl Brewer, Ray Cadieux, Paul Conlin, Jean Cusson, Gary Dineen, Ted Hargreaves, Fran Huck, Marshall Johnston, Barry MacKenzie, Billy MacMillan, Seth Martin, Morris Mott, Terry O'Malley, Addy Tambellini, Wayne Stephenson
1966 World Ice Hockey Championships - 3rd Place

Head coach: Jackie McLeod
Manager Father David Bauer
Gary Begg, Roger Bourbonnais, Ken Broderick, Ray Cadieux, Paul Conlin, Lorne Davis, George Faulkner, Fran Huck, Marshall Johnston, Jackie McLeod, Barry MacKenzie, Billy MacMillan, Seth Martin, Rick McCann, Morris Mott, Terry O'Malley (C),Harvey Schmidt
1965 World Ice Hockey Championships
Head coach: Gordon Simpson
Manager Father David Bauer
Reg Abbott, Gary Aldcorn, Gary Begg, Roger Bourbonnais, Ken Broderick, Don Collins, Brian Conacher, Paul Conlin, Fred Dunsmore, Gary Dineen, Don Fletcher, Bob Forhan, Al Johnson, Bill Johnson, Barry MacKenzie, Jim MacKenzie, Seth Martin, Grant Moore, Terry O'Malley