1974/75 THOMPSON HAWKS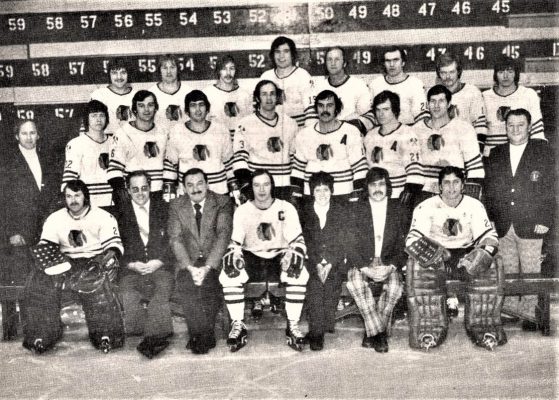 The Thompson Hawks Intermediate team were close to disbanding in 1974. The team had found itself $40,000.00 in debt and no league to play in. At the time, they were competing in the Canadian Central Hockey League (CCHL), a Senior league that was struggling to find teams and had not confirmed whether the league would continue.
While that decision was being made, the citizens of the young city of Thompson did not want to lose one of their prime sources of winter entertainment. A "Save the Hawks" campaign was started and the citizens and businesses of the newly minted City of Thompson rallied. Enough funds were raised to allow the team to continue.
The CCHL however, made the last-minute decision to fold and the Hawks quickly joined the new Intermediate Manitoba Assiniboine Hockey League (MAHL). The Hawks then had to find players, posting ads throughout Manitoba and arranging for jobs for the players with local businesses. Adversity was always around the team as they lost their team doctor and a major supporter of hockey in the North, with the sudden death of Alderman Dr. Bert Johnston in December, 1974.
The Hawks would claim the 1st year MAHL title and enter the Western Canada Intermediate AA Playdowns. Their first opponents were the Saskatchewan representatives from Rosetown, SK. , however at the last moment the Red Wings forfeited their title to the Moose Jaw Selects. The Hawks eliminated the Selects in 3 games and advanced to the Western Canadian final against the Calgary Trojans.
Thompson took the series 3 - 1 and the Edmonton Journal Trophy. The City of Thompson had their first Western Canada title and their first team to make it to a national final.
Taking on the Moncton Bears for the Canadian Intermediate Hardy Cup crown, the Hawks lost the first 2 games before rebounding big in game 3 with a 10-1 victory. The Hawks however, would go on to lose the next game 4-1.
1974/75 Manitoba Assiniboine Hockey League (MAHL) Champions
1975 Manitoba/Saskatchewan Intermediate AA Champions
1975 Western Canada Intermediate AA Champions (Edmonton Journal Trophy)
1975 Canadian Hardy Cup finalists
1974/75 Thompson Hawks Induction video CLICK HERE
1974/75 Thompson Hawks roster; Ron Mymko, Alf Ellis, Roger Katchmar, Gord Laschuk, Keith Redman, Dale Demarco, Ron Ramsey, Bernie McLellan, Alex Sutherland, George Sykes, Jim Trosky, Dick Braun, Will McLeod, Terry Grindle, Bob Bingham, Rex Rideout, John Roy, Ron DeLonge, Bob Hendrickson; Coach/GM, Ray Pigeau; President, Brian Swain; Vice-President, Treasurer: George Plett, Bernice Cook; Secretary/Asst Mgr, Jim Bryson; Trainer