1972/73 ST. BONIFACE MOHAWKS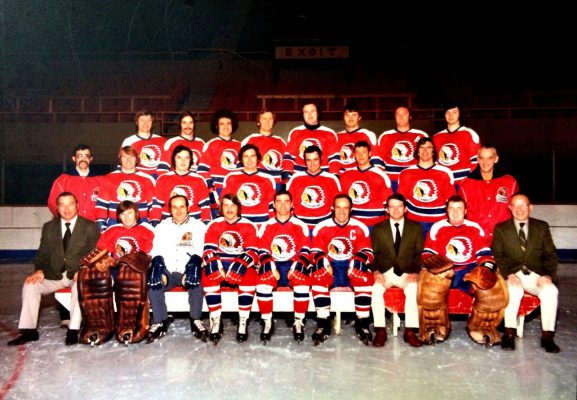 When the Winnipeg Maroons shut their doors in 1967, many of their players moved across the river to St. Boniface to join the new senior club Mohawks. Under the guidance of General Manager Aime Allaire, there was only one goal in mind, win the Allan Cup.
By 1972, Gary Kwaznitza was the lone original player remaining. Mike Yaschuk was at the helm as coach and the Mohawks were deep in talent. The Mohawks raced to the Canadian Central Hockey League (CCHL) title on a 21 game win streak after sweeping the EK Screaming Eagles four straight.
The Manitoba reps started out on the Allan Cup trail versus the Spokane Jets.  A year earlier, the Mohawks had lost to the Jets in the Western final.
Meeting the Jets in Spokane, the Mohawks took the opener 7-0.  Spokane rebounded to take games 2 and 3 before the teams headed to Winnipeg for the remainder of the series.
The Mohawks tightened up their checking to tie the series with a 5-2 win but the Jets responded to push the Mohawks to the brink with a Game five 6-5 win. St. Boniface delivered a Game six 7-4 victory and then sent the Jets packing with a Game seven 10-4 win.
The Western Canadian Champion St. Boniface Mohawks had earned themselves a trip to Orillia, ON to take on the Eastern champion Orillia Terriers in the Allan Cup Final. The travel weary Mohawks were thumped 12-2 in the series opener before bouncing back in Game two with a 7-4 win. That would be all there was for the Mohawks as Orillia would take the next three games 8-5, 11-2 and 8-1 to claim the Allan Cup.