1965/66 FLIN FLON WARRIORS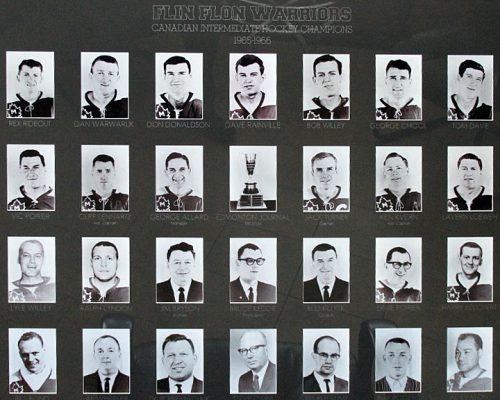 The Flin Flon Warriors won the Manitoba Intermediate Championship in 1963/64, 1964/65, and 1965/66.
 In 1965 Manitoba's Intermediate teams were graduated to Senior classification.  The Warriors had proven one of the best amateur teams in the country having beaten Canada's National team on one occasion.
For the 1965/66 season the Warriors were the only team registered in Intermediate AA with the Manitoba Amateur Hockey Association to challenge for the Manitoba Championship, the McDiarmid Shield.
The Warriors long road to the 1965/66 Intermediate title started with the Kenora Thistles for the inter-provincial trophy, taking the best of 5 series 3 games to 1. After losing the first game 5-3, the Warriors ran off three straight victories 10-3, 8-2 and 10-2.
Advancing to the Western semi-finals, the Warriors met the Saskatchewan representatives, the Kindersley Klippers, who they eliminated in three straight victories (8-2, 4-2, 5-2).
The Warriors claimed the 1966 Edmonton Journal Cup with a sweep of the Lloydminster Border Kings in the Championship best-of-five series by scores of 6-1, 2-1 and 5-2.
With no Intermediate playdowns in Eastern Canada, the 1965/66 Flin Flon Warriors stood at the top as the best Intermediate team in Canada.