1957/58 ST. BONIFACE CANADIENS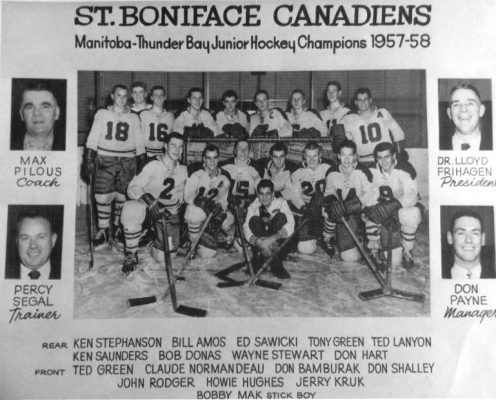 1957/58 ST. BONIFACE CANADIENS
The St. Boniface Canadiens finished the 1957/58 MJHL regular season in second place one point behind the Winnipeg Monarchs. The Monarchs had earned a bye to the final, while the Canadiens found themselves in an opening round matchup against the 3rd place Winnipeg Braves.
The Braves, behind red-hot goalie Ernie Wakely gave the Canadiens all they could handle. The best-of-five series went the limit with the Canadiens needing to come from behind in Game 5 to win 3-2.
Meeting the defending MJHL champion Monarchs in a best-of-seven series for the Manitoba Junior Hockey League championship, the Canadiens  grabbed the first two games 3-2 and 5-4 before the Monarchs took game three 8-5. After pushing the Monarchs to the brink with a game four 7-4 win, the Monarchs took game five 4-1 followed by a 4-3 OT win forcing a game seven.
St. Boniface would explode for 5 goals in the last 10 minutes of the 3rd period in the deciding match to take a 5-1 win and the Turnbull Memorial Trophy.
Advancing to take on the Thunder Bay champion Fort William Canadiens in the inter-provincial final, St. Boniface added MJHL scoring champion Gord Labossierre from the Transcona Rangers and Bill Colpitts and Bill Saunders from the Monarchs to their lineup.
St. Boniface would win the first two games in Winnipeg handily 6-1, 6-2 before losing game three in Fort William. St B would close out the series with 6-3 and 10-7 wins earning a matchup with the Regina Pats for the right to represent the West in the Memorial Cup.
In game one, Regina would rack up their eighth consecutive playoff win with a 7-5 decision, but the Canadiens answered back, out-hustling and out-skating the Pats to win Game two easily, 8-3.
The Pats would take a Game three 8-4 win on Bill Hicke's hat trick followed by a 9-0 whitewash to push the Canadiens to the brink of elimination.
St. Boniface Coach Max Pilous was so mad at his team that he wouldn't coach the next game. He would come back however, after the Canadiens, battled to a 5-2 Game 5 victory and a glimmer of hope.
The Canadiens had been resilient all season, however that hope was dashed in game six as Ken Walters once again stonewalled them 4-0, ending the St. Boniface squad's season.