1953-1961 PIERSON BRUINS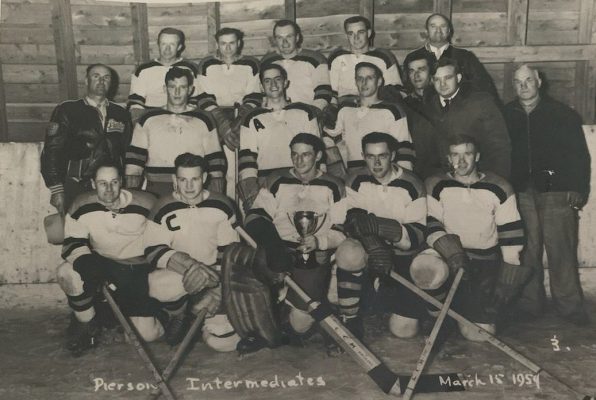 The Pierson Bruins dominated the South West Hockey League during the Fifties. Built around a strong core of local talent, the club was built on well organized offensive and defensive systems.
Import players were allowed and complemented the team's talent.
In the 1952/53 season, the Bruins won the MAHA "C" title.
In the 1953/54 season, the Bruins won the MAHA "B" title.
In 1955/56, the Bruins joined the South West Hockey League and claimed the SWHL title, defeated Stonewall to win the MAHA "B" championship, before losing the "AA" title to Dauphin Kings.
During the years 1957/58 to 1960/61 the Bruins would win four straight SWHL titles.
In 1960 the Bruins won the MAHA "B" title, challenged and defeated the MAHA "A" winners from Russell and lost to Dauphin in the "AA" challenge series in three games.
1953- 1961 Pierson Bruins HC Induction video; CLICK HERE
Core roster;
Allan Lee, Bill Lee, Barry Edgar, Ken Lee, Bert Lee, Scotty McRae, Jerry Drier, Glen Murray, Jim Ferguson, Jim Spence, Jim McKinney, Jack Rennie, Dave McRae, Tod Thurston, Delmer Loucks, Keith Jones, Harvey Jones, Vic Shettler, Managers - Charlie Durwood, Caven McRae and Herb Riddell, Team Doctor - Doc Brandl
Additional roster players with a minimum of one year with the team; Don McDermit, Gordon Southam, Bud Preston, Bud McRae, Alex Robertson (C), Ernie Riddell (M), Bud Craig, Cec Grieg, Bill Cobb, Reg Bentley (C), Bob Melvin, Carl Wandowich, Malcolm Davidson, Richard Kalisnyk, Laurie Bretthauer, Jerry Rouse, Gordon Robertson, Gordon Gibson, Dave Woods, Don (Chuck) Woodlands, Edgar Ehrenverth, Elliot Chalmers (M), Gordon Lee, Bert Hicks, Jim Mann, Howie Gibb, Ben Harper, Bruce Judd, Bob Harper, Gerald Gillander, Ted Weimer.