1950-54 DAUPHIN KINGS INTERMEDIATES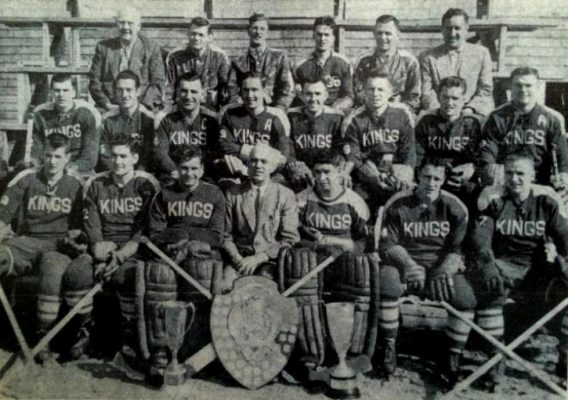 The Dauphin Kings dominated the Big Six league which ran from 1949-1957. Over the league's eight year existence the Dauphin Kings would claim 5 straight league titles, four Provincial titles and two Western Canada Intermediate championships.
The Big Six League operated from 1949 to 1955, and the Dauphin Kings dominated. Considered by some to be one of Manitoba's best leagues, the Big Six included teams from Brandon (the Elks and the College Caps), Neepawa, Souris and Killarney.
The 1951-52 team had particular success. Their overall season record consisted of 49 games, they had 35 wins, 13 losses and 1 tie. In the Big Six, they won 14 games and lost 6. In the Manitoba playoffs, the Kings won 9 of 15. The team went on to the CAHA Western Canada playoffs where they beat Lloydminster, Keewatin and Canmore to win the A Championship and the Edmonton Journal Trophy. They were the first Manitoba team to do so.
The Kings were known to have loyal fans with a particular flair, bringing the mule mascot and playing mule train. Cavalcades of 300 cars would travel from Dauphin to Brandon to cheer their team in the Western Canada finals.
1949-50
Norm Nantais, Steve Hawrysh, Jack Haddrell, Bidda McIntosh, Lou Bourbonnais, Pat Carey, Bill Murray, Johnny Saranchuk, Hugh Kerr, Birde Burdenuk, Wilf Shannon, Jack Clark, Johnny Love, Bob Reznoski, Trigger Love, Marty Malcovitch, Stymie Love, Alex Robertson
1950-51
Norm Nantais, Steve Hawrysh , Pete Pisnook, Bidda McIntosh, Lou Bourbonnais, Alex Robertson, Bill Murray, Bill Yanchuk, Paul Allard, Trigger Love, George Tamblyn, Hugh Kerr, Chick Adams
1951-52
Jack Haddrell, Pete Pisnook, Tom Hutchinson, Roy Bentley, Lou Bourbonnais, Alex Robertson, Bill Murray , Bob Rzesnoski, Don McLeod , Jim Mosienko, George Tamblyn, Hugh Kerr, Johnny Love, Chick Adams, Trigger Love, Ron Cox, Pete Pinsook, Playing-Coach; Roy Bentley, Jim Mann, Lloyd Harness and Pop Summers (trainer)

1952-53
Reg Kachanoski, Ewart Murray, Tom Hannesson, Bob Wood, Al Wolfe, Tom Love, Bill Murray, Bob Reznoski, Paul Allard, Paul Platz, Ted Lozanski, Leo Larson, Johnny Love, Babe Warbeck

1953-54
Reg Kachanoski, Ev Henderson, Ron Maxwell, Gus Bohunicky,Dave Hunt, Tom Love, Bill Murray, Bob Reznoski, Paul Allard, George Tamblyn, Del Murray, Pat McNeill, Johnny Love, Lorne Oman, Lad Hutchison, Paul Platz, Mac Beaton, Bob Ellison