1934/35 WINNIPEG MONARCHS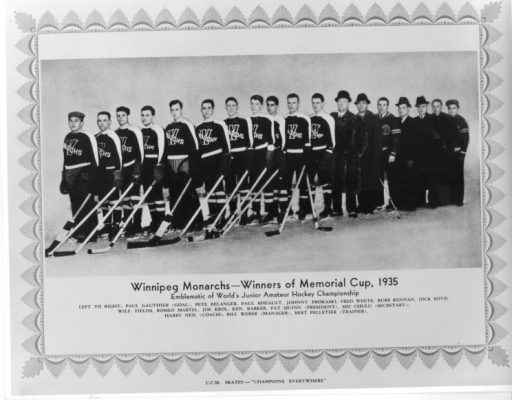 Memorial Cup Champions
Abbott Cup Champions
Manitoba/Thunder Bay Champions
Ollie Turnbull Memorial Trophy Champions (Manitoba Junior Hockey League)
The 1934/35 Winnipeg Monarchs took the City A Division title in 2 games over Kenora Thistles, following that up with a 2 game series win over the B Division champion Elmwood Maple Leafs to claim the city title. In the Provincial final, the Ollie Turnbull Memorial Trophy was awarded to the Monarchs after a 12-2 thumping of The Pas.
Meeting Port Arthur in the Western Canada semis, the Monarchs took Game One 8-0, followed up with a 6-2 win in Game Two. The series win put the Monarchs into the Abbot Cup final against the Saskatoon Wesleys with a trip to the Canadian Memorial Cup championship at stake.
All games were played in Winnipeg's Amphitheatre and Joe Krol's goal with two seconds remaining gave the Monarchs the win in Game One of the series. The Wesleys would dominate Game Two in delivering a convincing 5-2 victory. In Game Three, the Wesleys wiped out Monarch leads of 1-0 and 2-1 before Pete Belanger broke the 2-2 deadlock at the 15 minute mark of the 3rd period to give the Monarchs a 3-2 win and the Abbot Cup as Western Canadian Junior Champions.
The Monarchs would face a heavily favoured Sudbury Cub Wolves team in a best-of-three final in the Winnipeg Amphitheatre, just like they had in 1932 when the Monarchs won the opener but lost the next two games.
On April 9, the Monarchs would take Game One 7-6, before more than 4,500 fans. Winnipeg was never behind in the high scoring affair. Two days later, the Wolves would throttle the Monarchs in Game 2 with Art Stuart scoring four times as Sudbury won, 7-2.
More than 4,500 fans were in attendance on April 13 to witness Burr Keenan's three goals power Winnipeg to a 4-1 victory and the title. The Monarchs were determined to avoid another shootout and were aggressive with a tight defence right out of the gate. Keenan's second goal, at 8:33 of the second period, was the Memorial Cup-winner.
Roster: Ken Barker, Pete Belanger (captain), Jack Boyd, Wilf Field, Paul Gauthier, Burr Keenan, Joe Krol, Romeo Martel, John "Ike" Prokaski, Paul Rheault, Fred White, Harry Neil (coach), Pat Quinn (Presdient), Sid Chulu (Secretary), Bill Weber (Manager), Bert Pelletier (Trainer)