1928/29 ELMWOOD MILLIONAIRES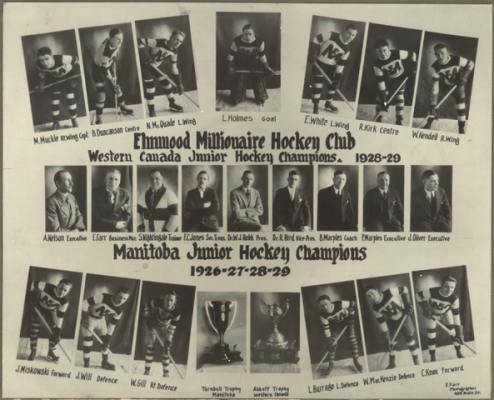 The 1929 Elmwood Millionaires won the Manitoba Junior hockey championship Turnbull Trophy and advanced to take on the Kenora Thistles in a two game total point Inter-Provincial play-off.
After winning game one 4-3 in Kenora, the teams moved to Winnipeg for Game two. The largest crowd to ever witness a junior game in Winnipeg saw the Thistles hanging onto a 1-1 tie and victory late in the 3rd period when Elmwood's Len Burridge scored giving the Millionaires a 2-1 lead and forcing overtime. Elmwood won it when substitute forward Billy Kendall, scored at 7:30 of extra time in front of more than 5,000 thrilled fans.
The victory matched Elmwood in an Abbott Cup final against the Calgary Canadian-Falcons. Game 1, played in the Winnipeg Amphitheatre, ended in a 1-1 draw.  In Game 2, Calgary was holding a 3-1 lead midway through the third period of Game 2 when Elmwood struck. The Millionaires, with Kendall scoring twice, struck for the game's last three goals to post a 4-3 victory and win the Abbott Cup as Western Canada Junior champions. 
Taking on the Eastern Canada champion Toronto Marlboros in a best-of-three affair, crowds in excess of 8,000 watched the bigger Marlboros take the body to the smaller Millionaires. The Marlboros would win the first two games by 4-2 scores to win the Memorial Cup.
1929 Elmwood Millionaires roster; Lyall Holmes (Goal), Bill Gill, Len Burridge, Al "Spunk" Duncanson, Monty Muckle, Norm McQuade, Bobby Kirk, Bill Kendall, Ernie White, Bill McKenzie, Bert Marples (Coach), Dr. W. J. Robb (President), Sammy Nightingale (Trainer)