1919/20 SELKIRK FISHERMEN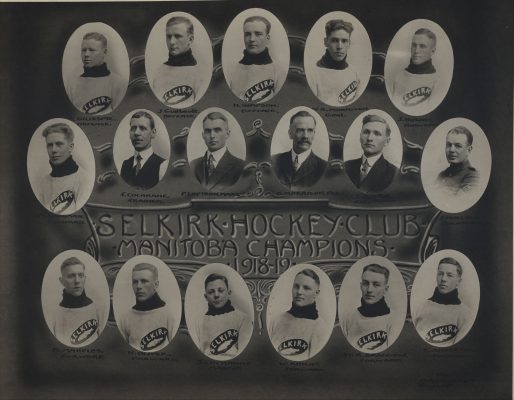 ABBOTT CUP TROPHY
MANITOBA/SASKATCHEWAN CHAMPIONS
TURNBULL MEMORIAL TROPHY
The Selkirk Fishermen are the longest running junior hockey team in Canada. The franchise was founded in 1917, and joined the Winnipeg and District Junior League inaugural season in 1918. The league changed its name to the Manitoba Junior Hockey League in 1931.
In its first year, the WDJL had nine teams in two divisions; each team played six games with the Fishermen taking the first league title in 1918. In 1920 the team won the league title again, claiming the new Turnbull Memorial Trophy. The team advanced to the Western Canada playdowns in Regina where they defeated the hometown Vics to claim the Manitoba/Saskatchewan title.
Knocking off the Alberta/BC champion Calgary Monarchs earned Selkirk the Abbott Cup and the Junior hockey championship of Western Canada. This earned the Fishermen a crack at the Memorial Cup against the Eastern Champion, the Toronto Canoe Club Paddlers.
The popular Fishermen were small and success for them came from a fast, skilled offence. The Paddlers however, were an all-star contingent comprised of players from across the country and their size would prove to be too much for the Fishermen. Selkirk lost the two-game total goal Memorial Cup series 15-5.
Roster; S. Thorsteinson, J. Heap, Johnny Shepard, G. Dalman, H.Brandow, C. Davies, W. Berrisford, S. Daly, F. Lockhart, H. Wolwin, R. Warwick, S.West (Trainer), A. Gilhooly (Trainer), S. Kennedy (Mgr), D. Saunders (Secretary), G. Gordon (Executive), J.Thorsteinson (Mascot)