SID WHITE 1932 – 2021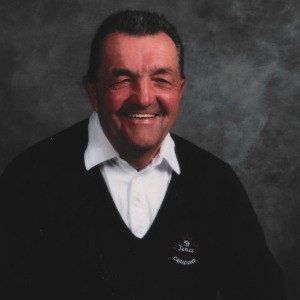 The Manitoba Hockey Hall of Fame mourns the loss of Sid White, Captain of the 1952/53 St. Boniface Canadiens Junior Hockey Club.
Sid passed away at the Grace Hospital in the early hours of Tuesday, September 21, 2021 in his 89th year. He was the only child of the late Anna (nee Funk) White, a woman of strong Mennonite heritage and George White originally of Plymouth, England.
Sid leaves to mourn "HIS" May, daughters, Jo-Anne and Valerie (Christopher); son Donald (Terry); his grandchildren, Keltie May, Willy, Braydy, Heather, Nicky, Sydney-Anna and Bobbi; and sister-in-law Bunny.
Besides his parents, Sid was predeceased by his parents-in-law, Margaret and Jack Miller; and brother-in-law Joe Grabys.
Much of Sid's life was centered around his love of family, friends and sport. Sid was a natural athlete who excelled in whatever sport he participated in, including track, baseball, la crosse football and hockey. He played junior hockey and was the captain of the St. Boniface Canadiens during their quest for the Memorial cup. He went on to play in the International Hockey League in Cincinnati and Troy, Ohio and for the Montreal farm team in Nelson, BC.
Sid's baseball time was with the Elmwood Giants who won The City championship in 1951.
He was a member of the Daniel McIntyre relay team and won the Provincial championship for a number of years in a row.
Sid had a stellar high school football career playing for the Daniel McIntyre Maroons and had some records which stood for many years. Even 50 years after his playing days were over, he was named to the all-time, all-star high school football team.
He was inducted into the Manitoba Sports Hall of Fame in honouring him and his St. Boniface Canadiens in the Memorial cup quest.
In 2016 he was inducted into the Manitoba Football Hall of Fame for the 1947 to 1948 D.M.C.I Maroons.
Sid met "HIS" May in 1952 and they were married in 1955, having celebrated their 66th Anniversary this past July. They spent their first married year in Nelson, BC where Sid was playing hockey. It was then he first worked at BC Tel.
May and Sid returned to Winnipeg in 1956 and Sid began his apprenticeship with the Manitoba Telephone system. He worked at MTS until his retirement in 1991. He enjoyed his years with the telephones and made many lifelong friends.
May and Sid bought their first and only house in Woodhaven in 1957. The house experienced many changes over the years - something to which many Woodhavenites would attest. "Mr. Fix It" was on call for advice and helped in almost anything to do with housebuilding and maintenance.
Another highlight of the early years was the birth of their three children - Sid's pride and joy, Jo-Anne, Valerie, and Donald.
Sid and his friends built a family cottage at Twin Beaches where many gatherings were held with family and friends.
In his 50's Sid started skiing and enjoyed many of the big hills in North America.
After retirement, May and Sid began wintering in Mesa, AZ. They eventually bought a mobile home and thus began an active social life where Sid took up golf. Their "wee" house on the corner was a popular gathering place.
Sid loved his life in Woodhaven and felt so fortunate with his neighbors - one of whom referred to Sid as Mayor of Woodhaven.
Sid's commitment to his community was a dominant feature in his life. Many happy hours were spent at the community club where in his younger years he coached hockey.
Sid's sendoff (graveside service) will be held on Saturday, October 2 at 3:00 p.m. at Chapel Lawn Cemetery, 4000 Portage Avenue. All are welcome to attend.