Ron Hutchinson - 10/24/1936 - 07/10/ 2021
Ron Hutchinson "Hutch" passed away peacefully on Saturday,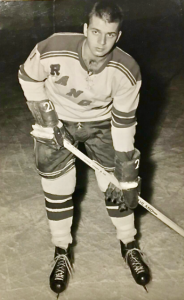 July 10, 2021, at the age of 84.
Hutch's passion for hockey was well known. It began when he was a young boy living in Flin Flon, MB.  He would spend countless hours at the rink practicing his skills.  Even if the rink was closed, that would not stop him, he would sneak his way into the arena and continue practicing the sport he loved.
His passion and hard work lead him to a successful hockey career, beginning with the Flin Flon Bombers, where he achieved his proudest accomplishment, winning the Memorial Cup in 1957.  From Flin Flon, Ron continued to follow his dream, playing with the Vancouver Canucks beginning in 1957-1960 and again from 1966-1967.  He also played for the New York Rangers, Seattle Totems 1962-64 and then finished his career in the 70s, with the Cranbrook Royals.
Ron's other passion in life was his wife Bunnie. Their love story began when Bunnie was sixteen and Ron nineteen, in Flin Flon MB.  They had a loving, beautiful marriage that spanned six decades, celebrating their sixty-first anniversary on July 2, 2021.
He was a loyal friend, loving husband, father, uncle and grandfather.  He will be remembered for his kind heart, gentle spirit, and his sharp sense of humor.  Hutch left a lasting memory on anyone he met and was beloved by all that knew him, including his many friends in the BC Forest Industry.
In the late 70s he left Crestbrook Forest Industries in Cranbrook to join Crown Zellerbach's (CZ) Armstrong Division in Human Resources & Labour Relations (HR/LR). The family later moved from Vernon to Kelowna and Hutch was promoted to the senior position of Manager for CZ's (later Fletcher Challenge) HR/LR operations in Kelowna, Armstrong, and Lumby.
With his easy-going manner Hutch was very popular with his employees in all departments and was highly regarded by his peers in a number of forestry associations.
He continued his work with Riverside Forest Productions and retired in 2001.
The family would like to thank his friends for the support and love they showed over the years. Over the last few years of his battle with Alzheimer's, they kept him golfing, curling, and enjoying a cold beer. A special thank-you to Wayne North, for his weekly visits to the care home where Hutch resided for the last three months of his life.  A special thank-you to the staff at The Village at Mill Creek for their compassionate care.
Ron will be forever loved and remembered by his family: his beloved wife Bunnie; his brother Ken; and his children Craig (Sharon), Curt (Melanie), Dana (Darren) and Dawne (Todd); his loving grandchildren Adam, Cameron, Devon, Hannah, Tatum, Tristen, Addison, and Shyla. He was predeceased by his father Ernie, mother Florence, and brothers Doug and "Tubby".
A Celebration of Life will be held at the Kelowna Golf and Country Club later this summer. Memorial donations may be made to the Alzheimer's Society of Canada.