Ralph Lyndon 1935-2023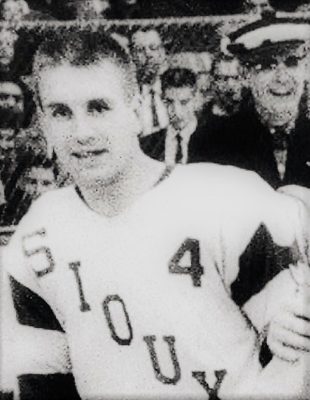 RALPH LYNDON
---
We are deeply saddened to announce the passing of Ralph Lyndon on May 30, 2023. Ralph lived as large as his prominent stature and was consistently referred to as "a legend" when his name came up in conversation. It was rare for him to enter a room without immediately making a connection to someone from his past and those that were with him were undoubtedly delayed due to the rambunctious exchange and raucous laughter that ensued. He was a highly skilled multi-sport elite athlete, excelling in hockey, lacrosse and football which led to his proud induction into the Manitoba Sports hall of Fame in 2021. He was recognised for his talents in all three sports over the years winning many awards and was entered into several sports halls of fame including the Manitoba Lacrosse hall of fame and his coveted UND hockey hall of fame induction where he played for the Fighting Sioux winning the NCAA Frozen Four championship in 1958. He played hockey and coached for the Winnipeg Monarchs for many years and had a year abroad with the Harrigay Racers in England, bringing both teams to victory in National championships. He continued to play in the Old Timers Hockey league well into his 60s and maintained friendships with all his former teammates until the end of his life. Lacrosse was his first love where he began at Issac Brock then the Winnipeg Orioles, followed by the Manitoba Junior All-Star team where he dominated as a prolific goal scorer, advancing to the Minto Cup finals. In high school, at Daniel McIntyre, he was the captain and leading force for the Maroons football team only losing one game in three years due in large part to Ralph's talents on the field. He went on to play junior football with Winnipeg Rods again winning a national title with that team.
Ralph started his teaching career in Transcona where he met his closest friend and fellow prankster Gerry Durreault before moving on to teach in St James-Assiniboia at Hedges Junior High and finally ending his career at Sturgeon Creek High School. Along the way, he collected friends that became buddies for life. If Ralph wasn't teaching, you could find him in his happy place on the football field at Sturgeon coaching his team to victory. He adored his students and kept in touch with many, well after retirement. Friday's after work he was a loyal patron to both the Marigold and the Silver Heights restaurant where he met up with colleagues and old teammates regularly. His keen sense of humour was enjoyed by all and his elaborate practical jokes were talked about for years. A wordsmith at heart, he loved his crosswords, rarely getting stumped on a word nor giving in to the "cheater's guide" crossword dictionary. He loved to attend his grandchildren's sporting events and always kept tabs on their progress in sports and life with great enthusiasm. He was a large man with an even larger personality but to us he was a giant teddy bear that gave hugs easily and reveled in his family's successes. It was a given Mickey would tell us, that while the Olympics were on, Ralph would bawl like a baby watching every event with an athlete's intensity.
The love of his life was Mickey Clark, and together for over 40 years they cherished their adventures in retirement with their close knit friends in Mesa and at their cabin at West Hawk Lake. Fishing was a passion for Ralph, and he loved nothing more than his time spent on the boat with Mickey or his guys weekends with his buddies at their favorite fishing holes around West Hawk. Mickey left us only six weeks ago and Ralph clearly decided that life without her wasn't going to be any fun. They are together forever now.
Ralph was born in April 1935, the only child of Lorne and Helga Lyndon (nee Stevenson) and was very proud of his mother's Icelandic roots. He was always bragging about the lack of grey hair( because he was an Icelander!) and he savoured his favourite Icelandic treats, Vinarterta and Rullupylsa.
With great sadness Ralph leaves behind his children, Lori Kretchmar (Dave), Gord Lyndon (Brenda), stepdaughters, Leslie Groom (Larry), Cathy Baker (Brad) and Joanne Clark. Grandchildren. Breigh Schlepp (Michael), Matthew Kretchmar, Ryan Raposo (Heather), Ben Garvey (Kelsey), Matt Garvey (Brittney), Jon and Lauren Groom and Jackson Klewchuk; brother-in-law Peter McNab (Elana). Great-grandchildren, Oliver, Otto, Abigail, Damien, Isla, Cade and Jack will deeply miss their Big Ralphie.