Pioneer Arena renamed to honour Charlie Gardiner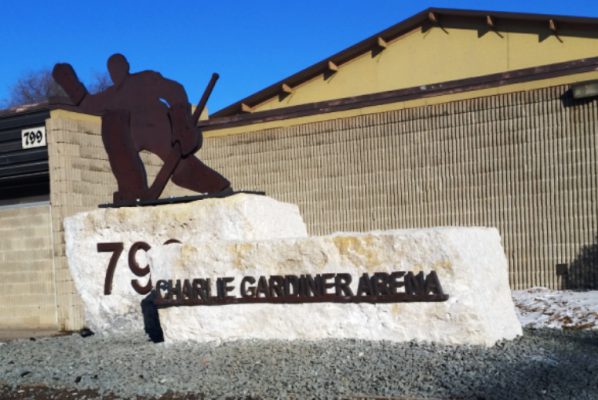 - Article by T. Kent Morgan
The Pioneer Arena in Winnipeg has been renamed the Charlie Gardiner Arena to honour the Winnipeg goalie who died in St. Boniface Hospital two months after leading the Chicago Black Hawks to the 1934 Stanley Cup.  On Aug. 16, an artist's rendering of new signage for the arena on Logan Ave. was unveiled. Edna Poulter represented the Gardiner family at the unveiling and Fred Morris, who spearheaded the push to name a facility after the goaltender, spoke about why he deserved to be honoured.
One major problem quickly was spotted. The Chicago Black Hawks goalie held his stick in his left hand and caught the puck with his right while Gardiner did the opposite. Instead of the Hall-of-Famer from Winnipeg, the player in the Hawks uniform was American Mike Karakas. The unsatisfactory explanation was that the photo had been taken off the internet where the player was misidentified. Corrected signage outside the facility went up in mid-November. The plaque about Gardiner's achievements will hang inside the arena.
Gardiner was born in Scotland, but grew up in Winnipeg living on William Ave. and Alexander and Langside Streets. Naming the Pioneer location seems appropriate even if it's taken the City 84 years to officially recognize one of its greatest athletes. In addition to hockey, Gardiner had played baseball and rugby for the Tammany Tigers, one of the city's most prominent athletic clubs. He is as deserving as Terry Sawchuk, who had the Concordia Arena named after him and Bill Mosienko, whose name is on the former Keewatin Arena.
Gardiner's story from his childhood to his passing is well-documented in the 2005 book, Before the Echoes Fade, by Virginia author Antonia Chambers. She wrote in the preface that she had discovered Gardiner in a hockey encyclopedia and wondered why he wasn't better known. As she researched his life, she realized that the way he lived and died outweighed his many achievements and that's why she wrote the book.
Her sources included Gardiner's teammates Art Coulter, Murray Murdoch and Art Somers as well as members of the Manitoba hockey community such as George Allard, Vince Leah and Ed Sweeney. Gardiner's nephew Ted Poulter shared family recollections as well as scrapbooks and photo albums. At the time of his death, Frank Patrick, the managing director of the NHL said, "I doubt if there has ever been a more popular player in hockey." The four-time NHL all-star goalie, who was inducted into the Hockey Hall of Fame with its first group in 1945, is buried at Brookside Cemetery in Winnipeg.