Pratt, Walter "Babe"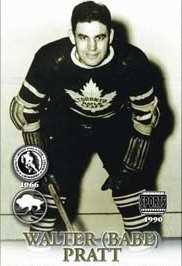 Date of Death: 1988-12-16Date of Birth: 1916-01-07* Honoured Member of the Hockey Hall of Fame
In 1932, Pratt led the Elmwood to the provincial midget crown and to the juvenile title the following year. He was with Kenora in 1934 when the club captured the MJHL Championship. "Babe" won the MJHL scoring crown in 1935 with Kenora. He turned pro with Philadelphia, the Rangers' farm team and moved up to the NHL in 1936. Pratt played on a Stanley Cup winner with the Rangers in 1940 and 1942. He was traded to Toronto in November 1942. In 1944 he was the Hart Trophy recipient when he set an NHL single season record for defencemen with 57 points. Pratt led the Leafs to the 1945 Stanley Cup as he scored the winning goal against Detroit. He was traded to Boston in 1946. In 2000, he was voted to Manitoba's All-Century First All-Star Team.