SUSANA YUEN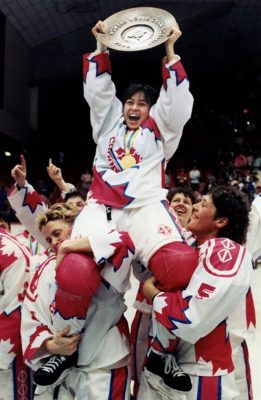 Date of Induction: 2019
Susie Yuen took up skating when she was eight years old. Like many young girls at the time, girls hockey was not an option, so ringette was the popular winter team sport to sign up for.
While attending classes at the University of Manitoba in the Eighties, Susie was encouraged to join the Women's hockey club. The 4'10" Yuen showed up for the first practice with garbage mitts and sweatpants. Looking around at the other players with their full sets of equipment she quickly realized this was a whole new game she was getting into. Competing in a local women's league, the diminutive, high-energy Yuen quickly became a key member and leader of the team.
In 1989, Yuen was selected for the Canadian national team that would be participating at the first official, IIHF-sanctioned Women's World Championship in Ottawa in March, 1990.
Organizers were determined to pull out all stops in promoting the Women's tournament. That included fitting the Canadian team with pink jerseys featuring a stylized maple leaf, white pants and pink socks. The jerseys along with Susie and her teammates play through the early matches caught the nation's attention.  Her 5 goals and 7 assists put her in the tournament's top 10 scorers and a 6 point single game performance remained a National team record until 2007.
Over 9,000 fans watched Susie and her teammates bring their A game to the gold medal match versus the United States.  Her goal at 10:14 of the third gave the Canadians a two-goal lead in what would be a 5-2 victory and Canada's first world women's title.
The event would be a watershed moment in the women's game. The abilities of elite female players from around the world were showcased earning support to include women's ice hockey in the 1998 Olympic Games. Yuen's gritty performance in the tournament is understated in the impact it had on the women's game
Susie would return to club play in Winnipeg taking time out at one point to mentor women's hockey in China. She has worked tirelessly in coaching and organizing the women's game in Manitoba.