Ross Parke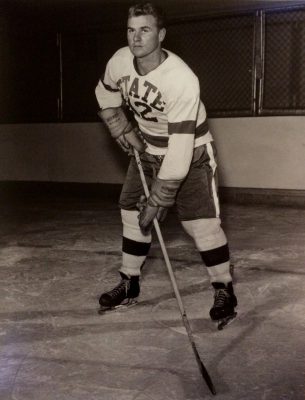 Date of Birth: 1932-02-18Date of Induction: 2017
Born in Winnipeg, Ross Parke played in the Winnipeg Monarchs system making it to the 1951 Memorial Cup. An MJHL all-star in1951/52, Parke turned down an offer to turn pro with Detroit Red Wings to attend Michigan State on an NCAA scholarship where he was the Spartans top scorer for three consecutive years.
After graduation he joined the Winnipeg Maroons in 1957. Parke was a reliable point producer in many memorable games versus International competition. Parke once scored 6 goals in a 1965 Geneva tournament game against Czechoslovakia and was named tournament MVP.
In 1964, the Maroons won the Allan Cup with Parke leading all play-off scorers with 26 points in 13 games. In 1965 Parke and several Maroons teammates formed Canada's first National team. Finishing his career with the Maroons, Parke also coached the River Heights Midget and Juvenile teams in 1966 and 1967, winning the City and Provincial Championships both years.