RON OAKES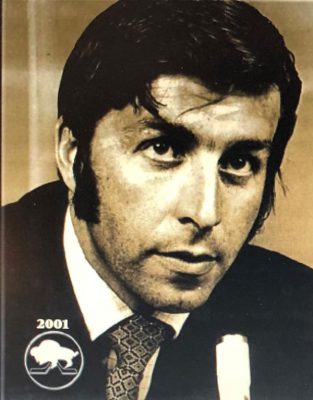 Date of Death: 2007-05-29Date of Birth: 1933-11-23Date of Induction: 2001* Honoured Member of the Hockey Hall of Fame
Ron Oakes was born in Winnipeg, Manitoba, where he got his radio start with radio station CKRC before broadcasting minor-league hockey games and the Blue Bombers for CJOB. He later would do radio sports reporting for the CBC.
Oakes was the voice of several teams in the NHL, WHA, and minor league hockey, including a long term as the voice of the minor league San Diego Gulls. He arrived in San Diego at the same time as professional hockey in 1966. Hockey was still an unfamiliar sport to many people in the region, but the Canadian-born, play-by-play announcer of the San Diego Gulls on KOGO-A SAN DIEGO made it his mission to introduce it locally and succeeded.
Oakes also did stints with the WHA's Vancouver Blazers and San Diego Mariners and the NHL's Los Angeles Kings, St. Louis Blues, and Chicago Blackhawks. He also appeared on CBS's short-lived WHA national coverage.