Rob Martell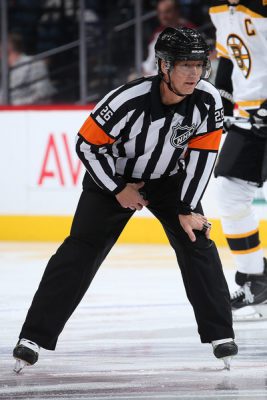 Date of Induction: 2017
Rob Martell was born in Winnipeg and became a minor league official under the guidance of Manitoba Hockey Hall of Fame member Perry Allan, working AA and AAA games in Stonewall, the Interlake and in Winnipeg, and then in Junior B, MMJHL, MJHL and CASH leagues.
In 1987, Martell attended the NHL summer camp and joined its trainee program, officiating in the WHL, OHL, QMJHL, and the CCHA Division 1. In 1992, after eight years of paying his dues in the Minors and Junior leagues, Rob was hired full time as a Referee by the NHL. He would continue to master his craft in the minor leagues and on Easter Sunday in 1996, Martell refereed his first NHL game. 2000 was his first full season in the NHL.
Rob Martell officiated 1,004 NHL games, his last on January 2, 2016.