ROB HAITHWAITE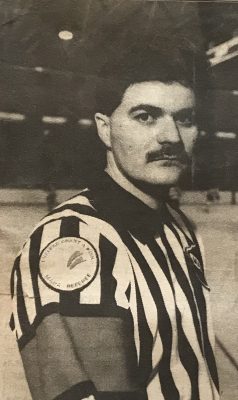 Date of Induction: 2019
Born in Neepawa, MB, Rob Haithwaite grew up in Brandon, spending his winters playing minor hockey throughout Southwest Manitoba.
At 12, he decided to make some extra money as an official. Under the guidance of MB Hockey Hall of Fame member Andy Gurba, Rob earned $30.00 for 30 games in his first year.
Eager to work more, Rob would take his skates and whistle to the local ManEx Arena at 8:00 in the morning and wait for any 'no-show' refereeing opportunities. He'd develop the thick skin Officials require by working the older guys games.
At 16, Rob began working as a linesman in the Manitoba Junior Hockey League (MJHL) before moving up to the Western Hockey League as a linesman from 1979-81. He would become Referee-in-Chief of the Portage La Prairie area from 1982-84.
By 1994, Rob had achieved his Hockey Canada Level Six certification. In addition to his WHL games he worked at all Elite levels within Hockey Manitoba including the CIS, MJHL, MMJHL, and Senior AA.
Rob has been selected numerous times to work National, Provincial and Inter-Provincial Championships at all levels. In 1995, he refereed the final game of the Asian Cup in Seoul Korea.
Well respected amongst his peers, Rob serves on the Hockey Manitoba Officials Development Committee taking the time to mentor many young officials on their way to an Officiating career.
Today, Rob serves as a Video Goal judge for National Hockey League games in Winnipeg.