KELLY McCRIMMON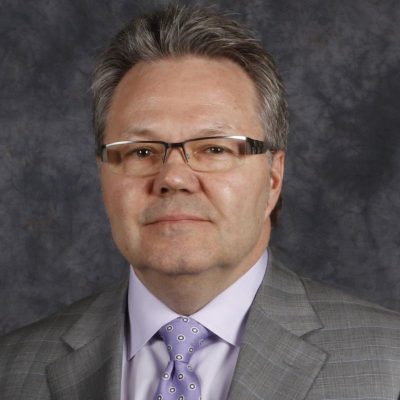 Date of Birth: 1960-10-13Date of Induction: 2019
Despite never making it to the NHL as a player, Kelly McCrimmon has had a profound influence on helping many other individuals reach that dream.
McCrimmon started his junior career as a 16 year old with the WHL Prince Albert Raiders before joining his brother Brad in 1978 with the Brandon Wheat Kings. He played 95 games with the Wheat Kings over two seasons scoring 28 goals and 64 points while collecting 228 minutes in penalties.
McCrimmon would spend the next four years playing Division 1 hockey at the University of Michigan from 1980-84, serving as the Wolverines Captain in his final season.
After graduating from Michigan with a business degree, McCrimmon was offered a coaching position in the Saskatchewan Junior Hockey League which eventually led to an opportunity to join the Wheat Kings as an assistant coach in 1988.
By 1992, McCrimmon was Head Coach and a one-third owner of the team, eventually taking sole ownership in 2000. In the 1992/93 season, the club set a Canadian Hockey League record for the biggest single season improvement of 62 points.
Over 10 seasons McCrimmon led the Wheat Kings to eight East Division pennants and four Eastern Conference championships. They would make four WHL final appearances and participate in three Memorial Cup tournaments including 2010 as the host team.
Under his watch the Wheat Kings have won more games than any other team in the CHL and have made the playoffs 17 of 18 years. McCrimmon was a three-time Western Hockey League Executive of the Year (1995, 2010 and 2015), as well as Canadian Hockey League executive of the year in 2010. In 2016, his last season as coach, the Wheat Kings claimed the WHL championship.
In 2017, Kelly McCrimmon joined the expansion NHL Las Vegas Knights in an assistant GM role, helping the Knights make it to the Stanley Cup finals in their very first season.