Stewart, John "Black Jack"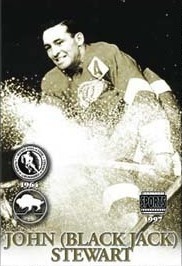 Date of Death: 1983-05-25Date of Birth: 1917-05-06* Honoured Member of the Hockey Hall of Fame
Born in Pilot Mound, Manitoba he earned his nickname because of his abilities as a punishing body checker. In 1936 and 1937 he played two seasons of junior hockey with the Portage la Prairie Terriers in the MJHL before turning pro in 1938 with the Detroit Red Wings. John Sherratt Stewart established himself as a great defenceman with Detroit over the next 12 years. He played on two Stanley Cup winners with the Red Wings in 1943 and 1950 and was named to five NHL All-Star Teams. After the 1950 season the Wings dealt him to Chicago where he finished his playing career at the end of 1952. In 2000, he was selected to Manitoba's All-Century First All-Star Team.