Vinet, Joe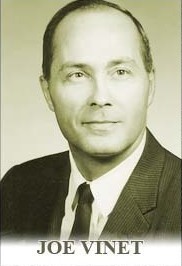 Date of Death: 2018-02-17Date of Birth: 1920-06-20
Born in Winnipeg, Manitoba Joe played in the Manitoba Junior Hockey League for two years and later in the Manitoba Senior Hockey League before turning to officiating in the early 50's.
Vinet was an excellent skater and had a great interpretation of the rules which led the CAHA to assign him to Memorial Cup and Allan Cup playdowns. He also handled Manitoba Intermediate "A: and "B: finals along with Junior and Senior hockey Provincial finals. Vinet's talents were always in demand, however due to work commitments, he was unable to take any more out-of-province assignments.
Vinet managed to referee about fifty games a season including Junior, Intermediate, and Senior playoffs until retiring in 1972.