Gardiner, Herb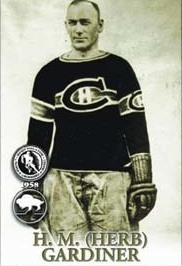 Date of Death: 1972-01-11Date of Birth: 1891-05-08* Honoured Member of the Hockey Hall of Fame
Born in Winnipeg in 1891, Herb Gardiner took the roundabout way to earning an NHL MVP award.
After a brief stint in Senior hockey, Gardner was a banker then surveyor before joining the Canadian army in 1915. After 3 years of fighting in Europe, he earned a medical discharge and returned home to his surveyor job in Calgary.
Lacing up the skates again to play with the Calgary Wanderers in 1919, he would turn professional at the age of 29 with the Calgary Tigers in the Western Canada Hockey League in 1921.
After the collapse of the WCHL in 1926, Gardiner joined the Montreal Canadiens at the age of 35 and quickly became one of the NHL's top defenders. Playing every minute of every game that year for the Canadiens earned him the nickname, "the Ironman of hockey". He earned the Hart Trophy as the league's Most Valuable Player.
He would appear in all 44 games with the Canadiens in 1927/28, one of only four players to appear in every game in his first two years with Montreal. Loaned to Chicago prior to the beginning of the 1928/29 campaign, Gardner appeared in a handful of games that season, spending most of his time behind the Blackhawks bench.
Recalled by the Canadiens towards the end of the season, Gardiner finished his career with the Habs before being sold to the Boston Bruins.  The Bruins handed him the reins to their Philadelphia AHL and Eastern Hockey League teams until 1947.
Inducted to the Hockey Hall of Fame in 1958, Herb Gardiner died in 1972 at the age of 80