Maxwell, Fred "Steamer"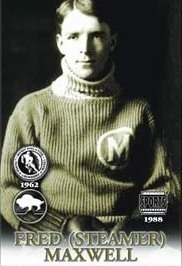 Date of Death: 1975-09-11Date of Birth: 1890-05-19* Honoured Member of the Hockey Hall of Fame
He had several offers to become a professional hockey player but remained an amateur throughout his career. He picked up the nickname "Steamer" because of his tremendous ability to skate. He began playing hockey in Winnipeg in 1910 when he joined the senior Monarchs. In 1914-15 while playing with the Irvin brothers, Dick and Alex, they captured the Allan Cup. Maxwell turned to coaching and in 1919-20 he piloted the Winnipeg Falcons to the Allan Cup and the Olympic championship. He later coached the 1927 Winnipegs and the 1930 Elmwood Millionaires to Manitoba Senior titles and in 1935 he piloted the Winnipeg Monarchs to a World Hockey championship.