Fredrickson, Frank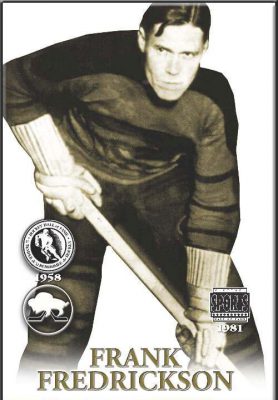 Date of Death: 1979-05-28Date of Birth: 1895-06-11* Honoured Member of the Hockey Hall of Fame
In 1912, Frank Fredrickson joined the recently formed Winnipeg Falcons in the Manitoba Independent League where the team would win the Intermediate title.
Fredrickson and the Falcons would play Senior briefly in the Winnipeg Patriot League before heading overseas in 1917 to serve with the Canadian Forces in World War I. The Falcons would re-form in 1919 and he captained the team to both the 1920 Allan Cup championship and the Olympic crown in Antwerp.
That same year, Fredrickson signed with Lester Patrick's PCHL club in Victoria. He led the league in scoring twice and in 1925 his Victoria Cougars defeated the Montreal Canadiens to win the Stanley Cup. He went to the NHL in 1926 and was on another Stanley Cup winner with the 1929 Boston Bruins. A leg injury led to his retirement after the 1931 season.