Green, Edward Joseph (Ted)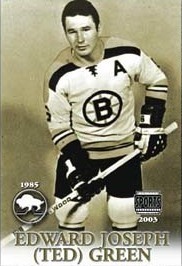 Date of Death: 2019-10-8Date of Birth: 1940-03-23
Born in Eriksdale, MB this rugged defenceman played junior hockey with the St. Boniface Canadiens and was added to the roster of the 1959 MJHL Winnipeg Braves. The Braves would go on to claim the Memorial Cup.
Turning pro with the Winnipeg Warriors of the WHL, he would join Boston in 1960/61 playing on the Bruins' 1972 Stanley Cup team. After the 1972 season he joined the New England Whalers of the WHA where they would claim the inaugural WHA Avco Cup title in 1973. He would play with the Whalers for three seasons before joining the Winnipeg Jets in 1975 and be on three more winning Avco Cup teams before retiring in 1979.
"Terrible Ted" Green played 1,072 pro games.