Semenko, Dave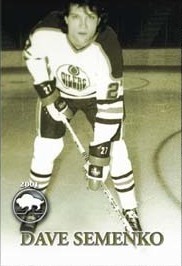 Date of Death: 2017-06-29Date of Birth: 1957-07-12Date of Induction: 2001
Born in Winnipeg, this left winger played two seasons of junior hockey with the WHL Brandon Wheat Kings and turned pro in 1977-78 with the WHA Edmonton Oilers.
He will always be connected to those great early Edmonton Oilers teams where he was part of two Stanley Cup championships in 1983-84 and 1984-85.
Dave Semenko finished his playing days with the Toronto Maple Leafs in 1988 and in a 575 game NHL career he scored 65 goals, 88 assists and 153 points.