Sutherland, Bill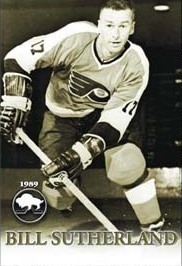 Date of Death: 2017-04-09Date of Birth: 1934-11-10
Born Nov. 10, 1934 in Regina, Saskatchewan, Sutherland spent much of his teenage and adult life living in Winnipeg. A solid two-way hockey player "Sudsy" spent 11 years in the minors before the 1967 NHL expansion.
The 1967 Philadelphia Flyers acquired Sutherland's rights when the Quebec Aces were purchased from the Montreal Canadiens to become the new NHL expansion team's first American Hockey League affiliate.
Sutherland played parts of four seasons with the Flyers which included scoring the organization's first goal on Oct. 11, 1967. The Flyers would lose Sutherland to the Minnesota North Stars via the 1968 interleague draft but then reacquired him in a March 2, 1969 trade with the Toronto Maple Leafs.
With the Flyers until 1970-71, he compiled 42 goals and 29 assists for 71 points in 124 regular season games. He also appeared in the first 11 Stanley Cup Playoff games in Flyers history, posting two goals and four assists for six points.
After 2 seasons with the St. Louis Blues and a brief stop with Detroit, Sutherland would join the Winnipeg Jets of the World Hockey Association in 1972.
Bill Sutherland retired as an active player in 1974. He later went on to a lengthy coaching career, serving both as the head coach and an assistant with the Jets in the NHL and as an assistant with the American Hockey League's Maine Mariners.
In 5 NHL seasons with Philadelphia, Toronto, St. Louis and Detroit, he played 250 games, with 70 goals, 58 assists, 128 points. In 2 WHA seasons with the Winnipeg Jets, "Sudsy" played 60 games, 10 goals, 21 assists, 31 points; In 12 seasons in the AHL, IHL, QHL and EPHL he played 726 games, 346 goals, 353 assists, 699 points.