Bathgate, Andy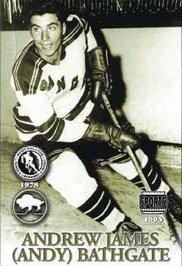 Date of Death: 2016-02-26Date of Birth: 1932-08-28* Honoured Member of the Hockey Hall of Fame
Andy Bathgate played his minor hockey in Winnipeg and eventually headed east to Captain the Guelph Biltmores of the Ontario Hockey League to the 1952 Memorial Cup championship.
Bathgate turned pro with the New York Rangers in 1952-53 and was with the club until 1964 when he was traded to Toronto. He enjoyed his greatest year in 1958 -59 when he won the Hart Trophy as the NHL's MVP. In 1961- 62 he tied Bobby Hull for the scoring title but Hull had more goals and won the crown. While with Toronto in 1964, the right winger scored the cup-winning goal for his only Stanley Cup.
He was twice named to the First and Second NHL All-Star Teams. He retired after 1970 -71, having played 1,069 NHL games, scored 349 goals and added 624 assists for 973 points.
In 2000, Andy Bathgate was named to Manitoba's All- Century First All-Star Team.