McDonald, Alvin Brian (Ab)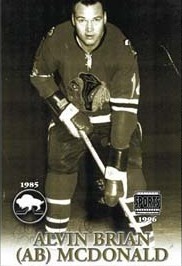 Date of Death: 2018-09-04Date of Birth: 1936-02-18Date of Induction: 1985
Born in Winnipeg, this left winger played junior with the 1953 St. Boniface Canadiens who were the Memorial Cup finalists. In 1954 he would claim the MJHL scoring title before moving on to the St. Catherine Teepees of the OHL.
Ab began his pro career  in the American Hockey League (AHL) with the Rochester Americans before advancing to the NHL where he would spend the next 14 years. He would play more than 800 games for the Montreal Canadiens, Chicago Blackhawks, Boston Bruins, Detroit Red Wings, the St. Louis Blues and also became the first captain of the Pittsburgh Penguins.
He was on four consecutive Stanley Cup winners, three with Montreal Canadiens and one with Chicago Blackhawks in 1961 where he scored the Cup winner.
Ab McDonald finished his career with the WHA Winnipeg Jets. He was named the Jets first captain in 1972 and scored the franchise's first goal.