NHL HISTORY WITH TY DILELLO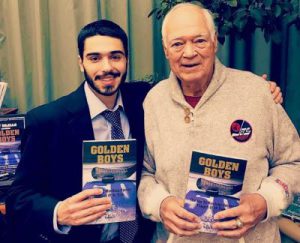 Hockey author and historian Ty Dilello has posted some great stories for us in the past on Manitoba's hockey heritage.
He's had the opportunity to sit down and chat with a lot of hockey folks over the years and is now sharing more of their stories online. Emile Francis, Tony Dorn and Anton Stastny are just a few of the features you can find HERE.
Ty Dilello is the author of Golden Boys: The Top 50 Manitoba Hockey Players of All Time and Manitoba Hockey: An Oral History. He is an accredited writer with the International Ice Hockey Federation (IIHF) and is a member of the Society for International Hockey Research (SIHR).
This October, 2021 he'll be releasing Mosienko: The Man Who Caught Lightning in a Bottle. This is the story of Manitoba legend Billy Mosienko, from his childhood spent skating on the rinks of Winnipeg's North End in the 1920s and 30s to his illustrious fourteen-year NHL career to his return to Winnipeg to play with the Winnipeg Warriors and his post-retirement career as the owner of the iconic Mosienko Bowling Lanes.